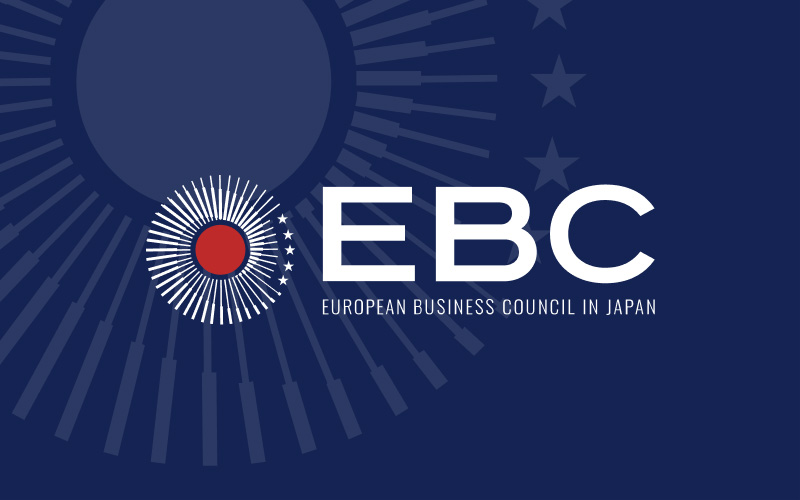 August 24, 2022

EBC Newsletter – August 24, 2022
Dear Friends of the EBC,

We hope you enjoyed a pleasant summer in Japan or abroad !

Talking about travel and business people who wish to come to Japan, Japanese media recently revealed that the government may lift the requirement for travelers to undergo a COVID-19 test before departure and may increase the number of daily entries into the country. In an interview with Reuters, EBC President Michael Mroczek said that "the need for business people to have a visa before travelling to Japan remains an obstacle, especially for companies that have no presence in Japan". The EBC remains mobilised and active so that our European companies can develop their business on the Japanese market without obstacles.

We are pleased to inform you about two events that may be of interest in early September:
International Webinar: Realizing Digital Societies with Data Infrastructure, and Workforce Education

Date:Thursday, September 8th, 2022, 5:00PM-7:30 pm
Information and registration here

The Japan International Dispute Resolution Center (JIDRC), Japan Commercial Arbitration Association (JCAA), and European Business Council in Japan (EBC) proudly present "Japan International Dispute Resolution Center Tour & Arbitration Talk: Current and Future Prospects of International Arbitration in Japan" (link: on September 8, 2022 from 3:30 to 5:15 JST.

Date: September 8th, 2022, 3:30 pm–5:15 pm
Register here: In Person (limited to 50 people)
Online
We hope you stay positive and healthy during this difficult time.
Valerie Moschetti
EBC Chief Operating Officer
Date
Committee
Time / Location
Aug 25 (Thu)
Medical Equipment & Diagnostics Committee
Off-site
1430~
Sep 2 (Fri)
Railways
EBC & Web
1600~
Sep 7 (Wed)
Energy
EBC&Web
1330~
Sep 9 (Fri)
Liquor
Web
0830~
Sep 12 (Mon)
Materials
EBC & Web
1730~
Sep 15 (Thu)
Human Resources
Web
0930~
Sep 15 (Thu)
Medical Equipment & Diagnostics Committee
Off-site
1430~
Sep 16 (Fri)
Automotive Components & Aftermarket
Off-site and Web
1600~
Sep 22 (Thu)
Telecommunications Equipment
EBC & Web
10:00~
Sep 27 (Tue)
Retail and Wholesale
EBC & Web
1700~
Sep 29 (Thu)
Legal Services
Web
09:00~
If you are interested in joining a committee meeting, please contact the EBC to confirm the time and meeting place.
European Business Council JAPAN
Toranomon Hills Business Tower 15F, 1-17-1 Toranomon, Minato-ku, Tokyo 105-6415
105-6415 東京都港区虎ノ門1-17-1 虎ノ門ヒルズビジネスタワー15階
www.ebc-jp.com/