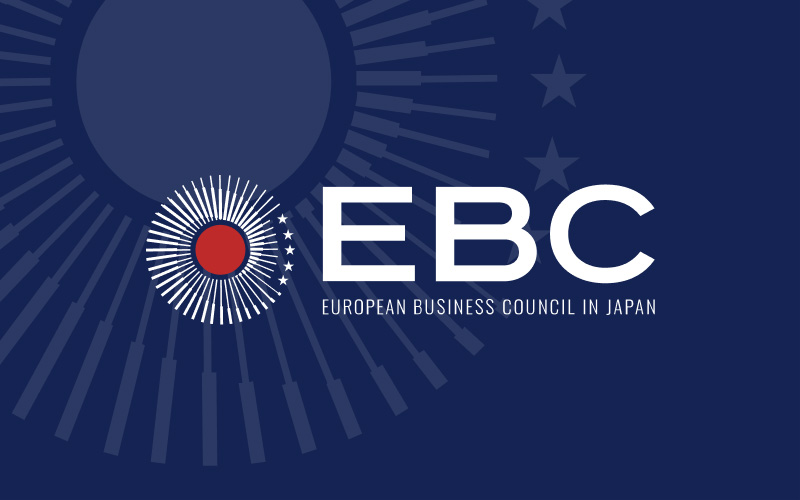 August 25, 2021

EBC Newsletter – August 25, 2021
Dear Friends of the EBC,

We hope you had a great summer in Japan or abroad!

During the Summer, European companies kept contacting us as they are still experiencing difficulties in bringing in experts for short assignments or new expatriates.

On Monday 19 July, we published a joint flash survey on the impact of the entry restrictions on European and American companies and their Japanese partners.

We will continue to advocate for an opening of the borders for these essential personnel for the European and Japanese economies, in compliance with the appropriate Japanese sanitary measures. To better assess the current situation in European companies in Japan, please contact us if your company is also affected by the entry restrictions!

This week, we invite you to register to the next EU-Japan Centre for Industrial Cooperation event on Hydrogen in Transport, Industry and Power Generation | EU-Japan Online Workshop (9 September). Experts from Europe and Japan will share the latest developments on public policies and industrial solutions to develop the use of hydrogen in several sectors of the economy and reduce CO2 emissions into the atmosphere.

The shipping industry is also benefitting from technological advancements, which are set to transform cargo shipping. This EuroBiz  article details how this industry will shift to greener power, with the deployment of autonomous vessels, increased use of AI, and further digitalisation of operations.

We hope you stay positive and healthy during this difficult time.

Valerie Moschetti
EBC Chief Operating Officer
Flash survey on the impact of the entry restrictions on European and American companies and their Japanese partners
The EU-Japan Centre for Industrial Cooperation invites you to join its next event: Hydrogen in Transport, Industry and Power Generation | EU-Japan Online Workshop
Experts from Europe and Japan will share the latest developments on public policies and industrial solutions to develop the use of hydrogen in several sectors of the economy. They will also open a discussion on possible cooperation between Europe and Japan in hydrogen use projects.

Speakers include representatives from the European Commission, the Ministry of Economy, Trade & Industry of Japan, Mitsubishi Power, thyssenkrupp, Toyota Motor, H3Dynamics, CMB, Panasonic, Hydrogen Europe and Japan Hydrogen Association.

Date: Thursday 9th September | 9:00-11:30 CET / 16:00-18:30 JST
Language: English and Japanese with simultaneous interpretation
Detailed agenda and registration : https://spipa-japan.net/?p=3703
The shipping industry is benefitting from technological advancements, which are set to transform cargo shipping. This EuroBiz

 

article details how this industry will shift to greener power, with the deployment of autonomous vessels, increased use of AI, and further digitalisation of operations.
Date
Committee
Time / Location
Aug 26 (Thursday)
Medical Equipment & Diagnostics Committee
Off-site
1430~
Aug 30 (Monday)
Materials
EBC & Web
1730~
Sep 2 (Thursday)
Liquor
Web
0830~
Sep 3 (Friday)
Legal Services
Web
0900~
Sep 8 (Wednesday)
Energy
EBC&Web
1330~
Sep 16 (Thursday)
Telecommunications Equipment
Web
1000~
Sep 16 (Thursday)
Medical Equipment & Diagnostics Committee
Off-site
1430~
Sep 24 (Friday)
Railways
EBC & Web
1600~
Sep 30 (Thursday)
Human Resources
Web
0900~
If you are interested in joining a committee meeting, please contact the EBC to confirm the time and meeting place.
The EBC published its annual document on the Japanese regulatory business environment last July.

This year's White Paper is called "Strengthening partnerships – in crisis and opportunity alike" . The opportunity is of course referring to the EU-Japan EPA that entered into force on February 1, 2019. Unfortunately, at the same time the COVID -19 crisis struck the world.

We are, however, confident that with our recommendations, the European and Japanese economies and companies will continue to prosper.
European Business Council JAPAN
Sanbancho POULA Bldg. 2F, 6-7 Sanbancho, Chiyoda-ku, Tokyo 102-0075
102-0075東京都千代田区三番町6-7三番町POULAビル2F
TEL
03-3263-6222
  |   FAX 03-3263-6223
www.ebc-jp.com/