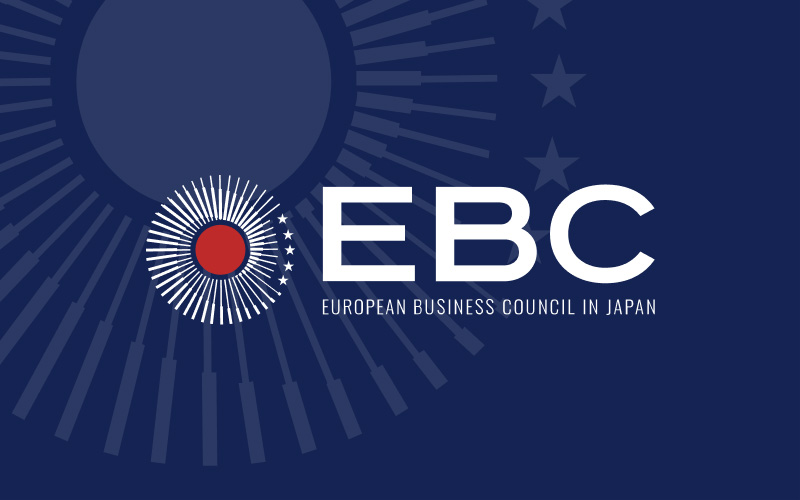 February 10, 2021

EBC Newsletter – February 10, 2021
Dear Friends of the EBC,

At the end of October 2020, Prime Minister Suga announced that Japan will be carbon neutral by 2050. The new European Commission made a similar announcement at the beginning of 2020. These declarations are crucial to avoid leaving the next generation with a planet in disarray and led the EBC to organise, on 10 December 2020, a briefing on decarbonisation.

As detailed in this EuroBiz article, the webinar gave member firms of EBC committees a chance to show that acting more sustainably and reducing their carbon footprints are top priorities. It also highlighted the increasingly ambitious climate goals of the EU and Japan.

On 5 February 2021, following the path of its Briefing, the EBC issued a statement on Carbon-Neutrality containing various recommendations and suggestions on how to achieve the objective of becoming carbon neutral by 2050.

Joint cooperation between Japanese and European companies can play a role in building a greener world. If you are a company in the Biotechnology or Food & Beverage sectors, we encourage you to attend the online matchmaking events organised by the EU-Japan Centre for Industrial Cooperation.

Enjoy your reading!

We hope you stay positive and healthy during this difficult time.

Valerie Moschetti
EBC Chief Operating Officer
On 10 December 2020, the Delegation of the EU of Japan hosted an EBC Briefing on decarbonization, with many attending virtually.

The event gave member firms of EBC committees a chance to show that acting more sustainably and reducing their carbon footprints are top priorities. It also highlighted the increasingly ambitious climate goals of the EU and Japan.
At the end of October 2020, Prime Minister Suga announced that Japan will be carbon neutral by 2050. The new European Commission made a similar announcement at the beginning of 2020.

The European Business Council in Japan (EBC) welcomes these announcements which, we believe, are crucial to avoid leaving the next generation with a planet in disarray.

We, moreover, believe that Japan is sending a clear message about tackling the climate issue, and that other countries will take note.

Therefore, the EBC with its committees issued this statement containing various recommendations and suggestions on how to achieve the objective of becoming carbon neutral by 2050.
"Biotechnology Business Meeting Online" jointly organized with the Organization for Small & Medium Enterprises and Regional Innovation, JAPAN (SME SUPPORT JAPAN).

European companies, including their Japanese subsidiaries, are invited for meetings with innovative Japanese venture companies in the field of Drug Discovery, Regenerative Medicine, Cell & Gene therapy, Digital Health, Medical devices and tools, Agriculture, Forestry, Fisheries, Animal health, Industrial Biotechnology.

Interested European companies can specify companies of their interest, their available days and preferred tools for online meetings. All arrangements for the 40 min. meetings including interpreting will be made by SME Support Japan.
Meeting Session 1: 15-19 February 2021
Meeting Session2: 15-19 March 2021
Portal site: https://jgoodtech2.smrj.go.jp/lp/ceo_web_biotech

"Japan Food and Beverage Days" is an online Matchmaking Event for European Food and Beverage Importers, Wholesalers, Distributors and Retailers and Japanese Manufacturers and Exporters of fine Food and Beverages, co-organised with the Osaka Chamber of Commerce and Industry and the Japan External Trade Organisation (JETRO)

The event uses a convenient online platform with integrated supplier search, messaging and video call function. Interpreting will can be provided for all meetings.

Dates: March 11-12 and 15-16, 2021
Time: 8:00 a.m. – 11:00 a.m. Central European Time (16:00-19:00 JST)
Online registration open at: https://japanese-food-and-beverage-days.b2match.io/
Date
Committee
Time / Location
Feb 18 (Thursday)
Medical Equipment & Diagnostics Committee
Off-site
1430-1700
Mar 2 (Tuesday)
Liquor
Web
0830
Mar 18 (Thursday)
Medical Equipment & Diagnostics Committee
Off-site
1430-1700
Mar 25 (Thursday)
Human Resources
Web
09:00~
Mar 26 (Friday)
Railways
EBC & Web
16:00~
If you are interested in joining a committee meeting, please contact the EBC to confirm the time and meeting place.
The EBC published its annual document on the Japanese regulatory business environment last July.

This year's White Paper is called "Strengthening partnerships – in crisis and opportunity alike" . The opportunity is of course referring to the EU-Japan EPA that entered into force on February 1, 2019. Unfortunately, at the same time the COVID -19 crisis struck the world.

We are, however, confident that with our recommendations, the European and Japanese economies and companies will continue to prosper.
You can select among 6 categories of sponsorships. Depending on the category, the Sponsor will get:
Free Membership to the EBC and participation to all EBC sectoral committees;
His logo on the EBC website (homepage and/or dedicated sponsors' web page);
His logo/name in the EBC White Paper;
His company banner/information material/keynote speaker at the EBC Briefings;
His company name listed in EuroBiz Japan (EBC monthly magazine).
We can also adapt your sponsorship / membership to your budget.
If you are interested in supporting the EBC, please have a look at the new Sponsorships Scheme and contact us at: [email protected] for further details!
European Business Council JAPAN
Sanbancho POULA Bldg. 2F, 6-7 Sanbancho, Chiyoda-ku, Tokyo 102-0075
102-0075東京都千代田区三番町6-7三番町POULAビル2F
TEL
03-3263-6222
  |   FAX 03-3263-6223
www.ebc-jp.com/