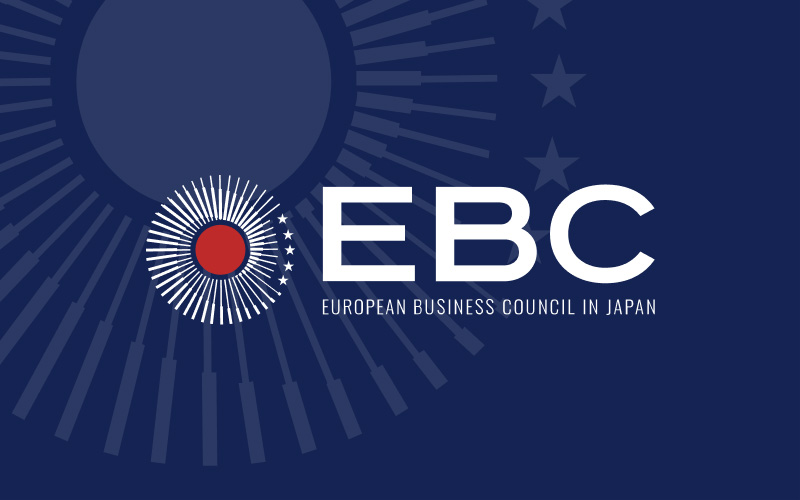 January 11, 2023

EBC Newsletter – January 11, 2023
 Dear Friends of the EBC,
On behalf of the whole team, I wish you a wonderful Year 2023 and hope to see you at some of our future events.
This year, if your company comes across non-tariff barrier issues on the Japanese market, do not hesitate to become a member of the EBC committees to share your concerns and act !
On 1 February 2023 at 5:30pm, the EBC Legal Service Committee will organise an event on "The Role of the Legal Profession in Addressing Environmental, Social and Governance (ESG) Issues in an Ever-Shifting World". With recent disruptions to the global economy, corporations throughout the world are seeking creative new ways to grow profits and revenue. The EU and its member states have been at the forefront of addressing this emphasis on "the bottom line" in a socially responsible manner. Join this conference in discussing the importance of ESG in global commerce, and ways in which laws, regulations, and corporate governance can be utilized in enhancing more than just balance sheets. Attention will be placed on the global supply chain, shifts in market dynamics, and recent regional experiences with tackling the COVID epidemic. We will soon confirm the place, but you can already register at [email protected] !
On 30 January at 4:00pm, we will hold a conference on "The Japanese Economy: Strategies to Cope with a Shrinking and Ageing Population" with Dr. Randall S. Jones, former Head of Japan/Korea Desk, Organization for Economic Cooperation and Development (OECD). Please save the date, we will provide soon more details.
The EBC Food & Agriculture Committee will have its first meeting of the year on 18 January at 5:30pm with a new Chair, Mr. Oliver Ryf of Aryzta. If you are working in this area and are interested in this committee work, you can contact us to attend as an observer.
To conclude, I would like to share with you the following event organised by the EU-Japan Centre on 18 January 2023 (5:00-5:30pm) on "10+ Gbps space-to-ground laser communication".
Webinar Registration – Zoom
We are looking forward to seeing you soon at one of these events!
Valerie Moschetti
EBC Chief Operating Officer
Global growth will slow sharply to 1.7 percent in 2023, the third weakest pace of expansion in nearly three decades and 1.3 percentage points lower than the earlier forecast, the World Bank said Tuesday, as tightening monetary policy to tackle inflation and Russia's war on Ukraine dampens prospects. (Kyodo News+)

Generating renewable energy such as solar and wind power is becoming more common on remote islands across Japan with the aim of securing electric power in case of disasters, as well as reducing greenhouse gas emissions.
The central and local governments are beginning to support such attempts, and some companies are also starting to focus their attention on the islands as a new research and development base for renewable energy. (The Japan News)

Prime Minister Fumio Kishida stepped up his call for companies to raise salaries to a level higher than the rate of inflation, labeling the issue as one of two pivotal policy areas his administration will tackle this year as a top priority.
At his first news conference this year here, Kishida said Jan. 4 the other challenge facing his administration is how to stem the declining birthrate, which he said required an "other-dimensional" policy response.  (The Asahi Shimbun)
Date
Committee
Time / Location
Jan 18 (Wed)
Food & Agriculture
hybrid
17:30~
Jan 26(Thu)
Medical Equipment & Diagnostics Committee
Off-site
1430~
Feb 10 (Fri)
Automotive Components & Aftermarket
hybrid
1630~
Feb 24 (Fri)
Medical Equipment & Diagnostics Committee
Off-site
1430~
Mar 12 (Mon)
Materials
hybrid
1730~
Mar 22 (Wed)
Food & Agriculture
hybrid
17:30~
Mar 23 (Thu)
Telecommunications Equipment
Web
1000~
Mar 23 (Thu)
Medical Equipment & Diagnostics Committee
Off-site
1430~
Mar 31 (Fri)
Automotive Components & Aftermarket
hybrid
1600~
If you are interested in joining a committee meeting, please contact the EBC to confirm the time and meeting place.
European Business Council JAPAN
Toranomon Hills Business Tower 15F, 1-17-1 Toranomon, Minato-ku, Tokyo 105-6415
105-6415 東京都港区虎ノ門1-17-1 虎ノ門ヒルズビジネスタワー15階
www.ebc-jp.com/