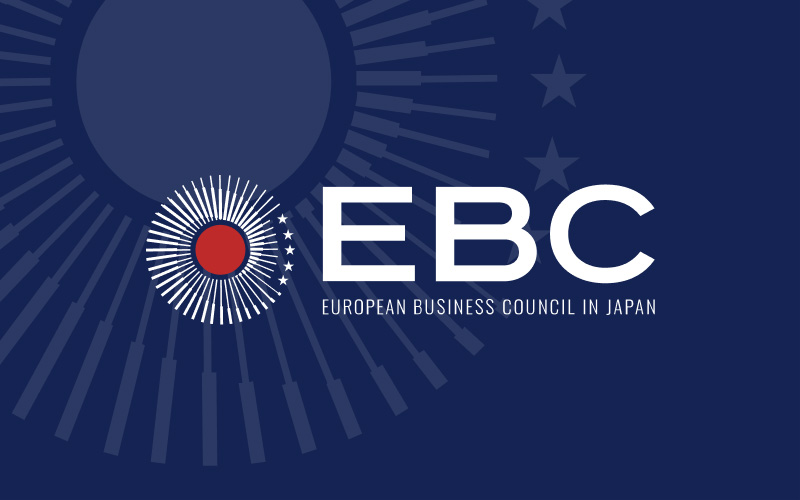 January 19, 2022

EBC Newsletter – January 19, 2022
Dear Friends,

The EBC team wishes you a Happy New Year 2022!

With the surge in Omicron cases, Japanese borders remain closed to foreign non-residents, leading to difficult situations at many European and Japanese companies. The EBC continues to stand by its members and to advocate for the easing of entry rules for essential personnel. Please contact us if you need assistance.

To begin the year with good news, our digital White Paper 2021 is online. We invite you to read it and to regularly visit the website as the new digital format makes it easier to update.
The White Paper is the result of the EBC 22 committees' work on barriers to trade between Europe and Japan. If your company is facing such issues and wishes to bring them up at government level with the EBC, please join our committees!

Finally, here are 2 events that might be of interest to you:

– Sustainability in the chocolate world: Cacao-Trace – An Impact Revolution Approach To Address Chocolate Chain Issues, organised by the BLCCJ

– Carbon Pricing for Net Zero/Utilizing Market Mechanism, organised by the EU-Japan Centre for Industrial Cooperation.

We wish you a good reading and hope you stay positive and healthy during this difficult time.

Valerie Moschetti
EBC Chief Operating Officer
BLCCJ EVENT: Sustainability in the chocolate world: Cacao-Trace – An Impact Revolution Approach To Address Chocolate Chain Issues
Mr. Gricha Safarian, GM Puratos Vietnam, and Mr. Sylvestre Awono, Puratos Cacao-Trace Expert, will present on the following:

•  Impact Revolution – Stakeholder Capitalism
•  Brief history of the birth of Cacao-Trace
•  Cacao-Trace Impact and success stories

This will be followed by a talk about the Cacao-Trace program in Japan by Mr. Jean-Pierre Bernardino, President Puratos Japan and BLCCJ Board Member.

Afterwards all 3 speakers will gladly take your questions.

EVENT DETAILS:
Wednesday 26 January
18:00-19:00 Japan time
Presentations + Q&A in English
Free of charge

If you are interested, please send an email to [email protected] by 26 January noon JST and we will confirm your registration.

This webinar will be conducted via Zoom. If your registration is accepted, you will receive an email with a Zoom invitation link and passcode on the day itself.
EU-Japan Centre for Industrial Cooperation Event: Carbon Pricing for Net Zero/Utilizing Market Mechanism
The Research Institute of Economy, Trade and Industry
The Institute of Energy Economics, Japan
The EU-Japan Centre for Industrial Cooperation
Joint webinar

Carbon pricing includes carbon tax, emissions trading system, carbon credits trading, etc., and is expected to be used as a means of realizing a carbon-free society. However, companies may feel it a burden, and therefore, views of industries are not monolithic.

At the international scenes, the EU has implemented an emissions trading system (ETS) for years, and carbon border adjustment mechanisms (CBAM) have been proposed to avoid carbon leakage last July. Also, emissions trading systems have been introduced in several states of the United States, China, and South Korea. In addition, at COP26 last November, the implementation rules of the market mechanism under Article 6 of the Paris Agreement were agreed, and it is expected that international credit transfer will be utilized.

Therefore, in this webinar, speakers/panelists will review the current status of EU ETS and CBAM, the status of consideration of existing credit transfer mechanisms and discussion on the introduction of carbon pricing in Japan (GX League proposed by METI, etc.) and explore ways how carbon pricing will be effective by industries' utilization.

1. Date and time: Thursday 27January, 2022
17:00-18:45 Tokyo
* The closing may be extended depending on the content of the Q & A / discussion

2. Languages: English and Japanese (with simultaneous interpretation)

3. Program: Click here

4. Registration: This webinar will be held at ZOOM. Please click the following ZOOM link to register for participation.
Date
Committee
Time / Location
Jan 20 (Thu)
Medical Equipment & Diagnostics Committee
Off-site
1430~
Jan 21 (Fri)
Railways
EBC & Web
1600~
Feb 2(Wed)
Energy
EBC & Web
1330~
Feb 18 (Fri)
Railways
EBC & Web
1600~
Feb 18 (Fri)
Automotive Components & Aftermarket
EBC & Web
1600~
Feb 24 (Thu)
Medical Equipment & Diagnostics Committee
Off-site
1430~
If you are interested in joining a committee meeting, please contact the EBC to confirm the time and meeting place.