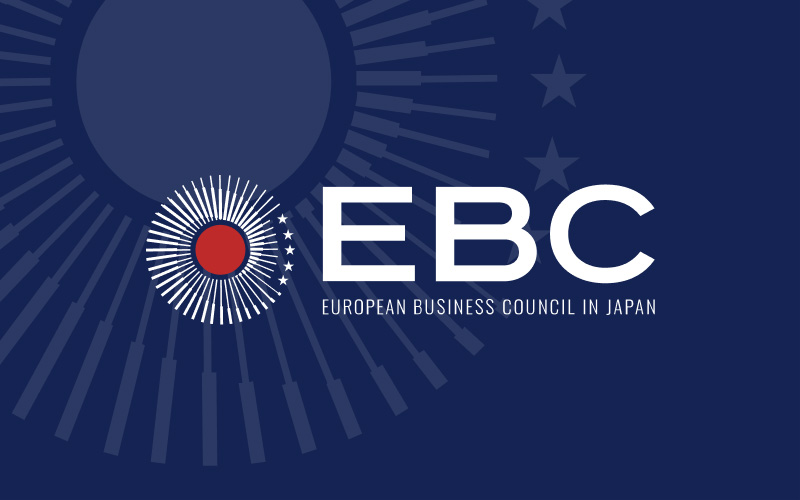 July 21, 2021

EBC Newsletter – July 21, 2021

EBC flash survey on the impact of the entry ban on European and American companies and their Japanese partners

Meeting the challenge to achieve carbon neutrality by 2050 through a positive cycle of economic growth and environmental protection
NET ZERO Leaders Summit(Japan Business Conference 2021)

The Japan External Trade Organization (JETRO) and Japan's Ministry of Economy, Trade and Industry (METI) are pleased to announce the jointly organized "NET ZERO Leaders Summit (Japan Business Conference 2021)" to accelerate innovation in green investment and realization of carbon neutrality by 2050.

The main program of the event will bring together the wisdom and minds of world leaders as together we take up the challenge to achieve a positive cycle of economic growth and environmental protection and deliver a sustainable growth vision globally.

The event will take place from Wednesday, July 28, and will be held online.
– To register: https://www.jetro.go.jp/en/events/jbc/

For the main program, 15 panelists and moderators have been selected for three panel discussions and Mr. TOKURA Masakazu, Chairman of KEIDANREN (Japan Business Federation) will give the Keynote Speech.

– Speakers in the Main Program

[Keynote Speech]
Speaker: TOKURA Masakazu, Chairman, KEIDANREN (Japan Business Federation) (Japan)
[Panel Discussion-1]
Panelists:
Air Liquide (France)
Vestas Wind Systems (Denmark)
IBM (United States)
MPower Partners (Japan)
Moderator: TSUSAKA Miki, Managing Director & Senior Partner Boston Consulting Group (BCG) (Japan)
Theme: "Green Innovation"
[Panel Discussion-2]
Panelists:
Banco do Brasil S.A. (BB) (Brazil)
PRI (Principles for Responsible Investment) (U.K.)
Enel S.p.A. (Italy)
Mitsubishi UFJ Financial Group, Inc. (Japan)
Moderator: SASADA Tamao, Country Executive for Japan, Bank of America (Japan)
Theme: "Sustainable Finance"
[Panel Discussion-3]
Panelists:
Juhua Group Corporation (and Zhejiang Juhua Co., Ltd.) (China)
PETROLIAM Nasional Berhad (PETRONAS) (Malaysia)
ReNew Power Private Limited (India)
WASSHA Inc. (Japan)
Moderator: NOBUTANI Kazushige, President, Japan External Trade Organization (JETRO) (Japan)
Theme: "Transition in Emerging Countries"
*Country names are where the headquarters' or the speakers' main location.
– Japanese companies with cutting-edge technologies and local governments will exhibit. 54 Japanese firms and local governments will exhibit at the "Japan Technology Showcase" within "NET ZERO Leaders Summit (Japan Business Conference 2021).
Details of exhibitors will be announced on the official website soon.
*Official website: https://www.jetro.go.jp/en/events/jbc/
– Scheduled time for Main Program
Wednesday, July 28:  1) 2:00 pm (JST)  2) 10:00 pm (JST)
Thursday, July 29:    1) 7:00 am (JST)
EuroCham Singapore Webinar: Progressing the Development of Agri-Innovations PART II – Showcasing ASEAN Working Models
Date: Wednesday 28 July, 4.30 PM to 6 PM

This event is a follow-up to an earlier event, "Progressing the Development of Agri-Innovation in Singapore and SEA" which was held with Singapore Enterprise, ID Capital and Urban Farming Partners. The first webinar is still available on our website as an on-demand webinar.

In this second session, on progressing Agri-Innovation in the region, we will focus on collaborations across corporates, start-ups and ecosystem enablers and how these organisations are structuring engagement and investment to help accelerate better outcomes.

Encouraging and supporting Agri-tech solutions aimed at innovating the way soil, crops, nutrients and related-tech are funded, farmed, harvested, processed, traced and transported is crucial. We look forward to understanding how leaders are connecting within the SG and SEA innovation eco-system to enable smallholders to introduce innovative and scalable solutions to meet affordable and evolving requirements. This will be an insightful session with showcases of the new models, approaches, and initiatives being pursued in the region.

For further information and registration: https://eurocham.org.sg/event/webinar-progressing-the-development-of-agri-innovations-part-ii/?utm_source=Newsletter+Events+Invitations+2021&utm_campaign=481b5e038c-EMAIL_CAMPAIGN_2018_08_28_04_11_COPY_01&utm_medium=email&utm_term=0_e61a5f084c-481b5e038c-
Date
Committee
Time / Location
July 29 (Thursday)
Human Resources
Web
0900~
Aug 26 (Thursday)
Medical Equipment & Diagnostics Committee
Off-site
1430~
Aug 30 (Monday)
Materials
EBC & Web
1730~
If you are interested in joining a committee meeting, please contact the EBC to confirm the time and meeting place.
The EBC published its annual document on the Japanese regulatory business environment last July.

This year's White Paper is called "Strengthening partnerships – in crisis and opportunity alike" . The opportunity is of course referring to the EU-Japan EPA that entered into force on February 1, 2019. Unfortunately, at the same time the COVID -19 crisis struck the world.

We are, however, confident that with our recommendations, the European and Japanese economies and companies will continue to prosper.
European Business Council JAPAN
Sanbancho POULA Bldg. 2F, 6-7 Sanbancho, Chiyoda-ku, Tokyo 102-0075
102-0075東京都千代田区三番町6-7三番町POULAビル2F
TEL
03-3263-6222
  |   FAX 03-3263-6223
www.ebc-jp.com/