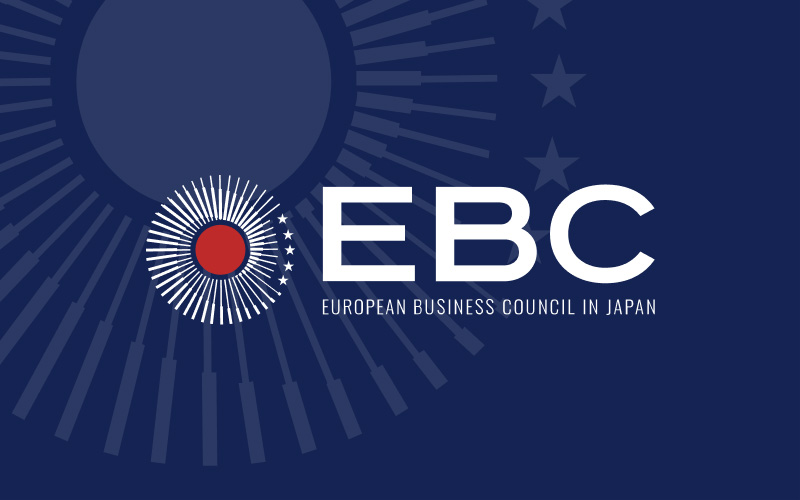 June 28, 2023

EBC Newsletter – June 28, 2023
Dear Friends of the EBC,

Last week, I was in Brussels attending several meetings with DG GROW (Internal Market, Industry, Entrepreneurship and SMEs), DG INTPA (International Partnerships), DG TRADE, with the Head of Cabinet to European Commission Executive Vice-President Valdis Dombrovskis, with the Head of Cabinet to Vice-President of the European Commission and High Representative of the Union for Foreign Affairs and Security Policy Josep Borrell Fontelles, with BusinessEurope (this organisation represents "enterprises of all sizes in 35 European countries whose national business federations are its direct members") and other European organisations. These meetings are very useful to brief me on the latest European policies and priorities to guide the EBC actions and better help European business here in Japan.

On 26 June, the EBC Railway Committee went to Osaka to re-visit JR West, and to meet Osaka Metro for the first time. Osaka Metro is one of the bigger railway operators in West Japan. On the agenda was self-introductions and also discussions on future procurement plans by Osaka Metro.

The EBC Legal Service Committee will have a committee meeting on 12 July from 12:00 at the EBC. This is a perfect opportunity to meet colleagues and experts from the legal field. Do feel free to forward this to your legal department. To register, send an email to [email protected]

This week, I would like to share with you the following information:
The Delegation of the European Union to Japan, the Research Institute of Economy, Trade and Industry (RIETI) and the EU-Japan Centre for Industrial Cooperation are organising a Joint Hybrid Seminar on Resilient supply chains in times of geopolitical tensions, with Commissioner Thierry Breton for the Keynote speech (Tuesday 4 July, 17:30-19:00).
For information and registration: 2023.7.4 English invitation v5_2.pdf (eu-japan.eu)
The complete English version of METI's Inward M&A Case Studies is now available on METI's website: https://www.meti.go.jp/english/press/2023/pdf/0419_002a.pdf
The EBC team is looking forward to hearing from you soon,
Valerie Moschetti
EBC Chief Operating Officer
Japan and the European Union agreed Tuesday to deepen economic security cooperation by strengthening supply chain resilience for semiconductors and other critical materials, apparently with China and Russia in mind. During their third high-level dialogue on economic issues such as trade and energy, Japanese and EU representatives also said they will take measures to counter China's so-called economic coercion, involving the use of economic means to achieve political goals and exert influence on other countries, Japan's trade ministry said. (The Mainichi)
The government has begun discussions on a law revision aimed at reducing food waste, according to several government sources. Among the measures being considered is a rule to ensure that businesses in the food sector are not held liable for accidents such as food poisoning if they donate surplus products to food banks. One of the reasons businesses have been reluctant to donate food is the risk of litigation and brand damage in the event of food poisoning. (The Japan News)
The Group of Seven industrialized nations pledged Sunday to take measures to eliminate gender economic gaps by bolstering female empowerment, while acknowledging the negative impact of the COVID-19 pandemic on equality between men and women. In a joint statement released after their two-day meeting in Nikko, Tochigi Prefecture, the G-7 gender equality ministers also agreed to continue working to realize a society where the human rights and dignity of sexual minorities are respected. (Kyodo News+)
Date
Committee
Time / Location
June 29 (Thu)
Telecommunications Equipment
Web
1000~
July 12 (Wed)
Legal Services
TBC
1200~
July 14 (Fri)
Railways
hybrid
1600~
July 20 (Thu)
Medical Equipment & Diagnostics
Off-site
1430~
Aug 24 (Thu)
Medical Equipment & Diagnostics
Off-site
1430~
Aug 30 (Wed)
Logistics and Freight
hybrid
0900~
If you are interested in joining a committee meeting, please contact the EBC to confirm the time and meeting place.
European Business Council JAPAN
Toranomon Hills Business Tower 15F, 1-17-1 Toranomon, Minato-ku, Tokyo 105-6415
105-6415 東京都港区虎ノ門1-17-1 虎ノ門ヒルズビジネスタワー15階
www.ebc-jp.com/