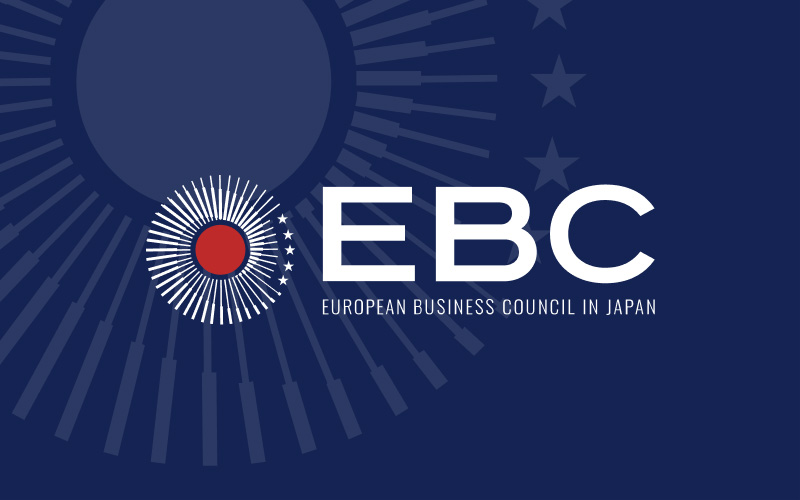 March 31, 2021

EBC Newsletter – March 31, 2021

Dear Friends of the EBC,

As you know, the main mission of the EBC is to advocate and to lobby for EBC members and for our stakeholders, the European National Chambers of Commerce in Japan. Our 23 Committees are devoted to improving the business environment for European companies in Japan. The EBC Committees highlight issues and make practical recommendations for how they should be solved.

In this Newsletter, you can get an insight on our Telecommunications Equipment committee, which issues include radio-spectrum allocation, harmonisation and patents.

Last February, the EBC issued a statement on Carbon-Neutrality containing various recommendations and suggestions on how to achieve the objective of becoming carbon neutral by 2050. You can now read this article published in the last EuroBiz magazine.

Enjoy your reading!

We hope you stay positive and healthy during this difficult time.

Valerie Moschetti
EBC Chief Operating Office

At the end of October 2020, Prime Minister Suga announced that the country will be carbon-neutral by 2050. The European Commission also made similar declarations when it was newly established in the Spring of 2020.
EuroBiz Article
Date
Committee
Time / Location
Apr 22 (Thursday)
Medical Equipment & Diagnostics Committee
Off-site
1430~
April 30 (Friday)
Railways
EBC & Web
1600~
May 12 (Wednesday)
Energy
EBC&Web
1330~~
May 20 (Thursday)
Medical Equipment & Diagnostics Committee
Off-site
1430~
If you are interested in joining a committee meeting, please contact the EBC to confirm the time and meeting place.
The EBC published its annual document on the Japanese regulatory business environment last July.

This year's White Paper is called "Strengthening partnerships – in crisis and opportunity alike" . The opportunity is of course referring to the EU-Japan EPA that entered into force on February 1, 2019. Unfortunately, at the same time the COVID -19 crisis struck the world.

We are, however, confident that with our recommendations, the European and Japanese economies and companies will continue to prosper.
You can select among 6 categories of sponsorships. Depending on the category, the Sponsor will get:
Free Membership to the EBC and participation to all EBC sectoral committees;
His logo on the EBC website (homepage and/or dedicated sponsors' web page);
His logo/name in the EBC White Paper;
His company banner/information material/keynote speaker at the EBC Briefings;
His company name listed in EuroBiz Japan (EBC monthly magazine).
We can also adapt your sponsorship / membership to your budget.
If you are interested in supporting the EBC, please have a look at the new Sponsorships Scheme and contact us at: [email protected] for further details!
European Business Council JAPAN
Sanbancho POULA Bldg. 2F, 6-7 Sanbancho, Chiyoda-ku, Tokyo 102-0075
102-0075東京都千代田区三番町6-7三番町POULAビル2F
TEL
03-3263-6222
  |   FAX 03-3263-6223
www.ebc-jp.com/