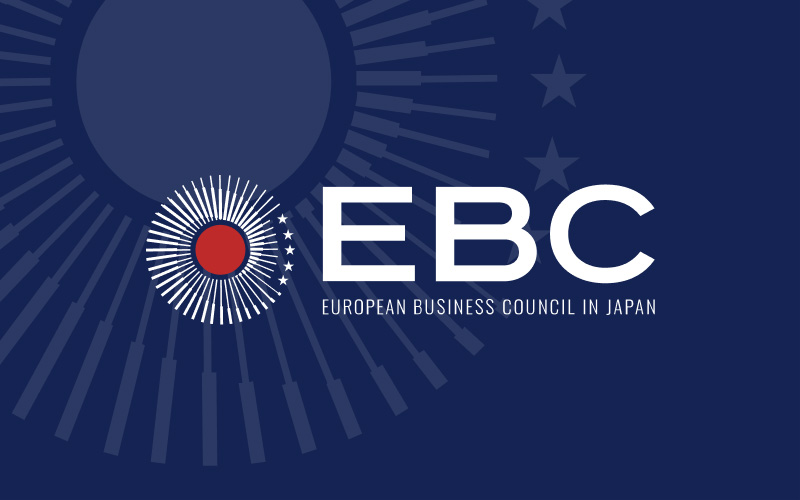 May 27, 2020

EBC Newsletter – May 27, 2020

*|MC_PREVIEW_TEXT|*
Dear Friends of the EBC,

On Monday, the state of emergency was fully lifted in Japan. If Covid-19 gradually disappears, the country will enter a recovery period.

To help affected businesses, the Japanese government has set up various support programmes between February and May. On Friday May 29, the EBC invites you to attend a Webinar (in Japanese) in which a METI official will talk about "the various financial supports offered by the Japanese Government to counter the effect of COVID-19".

At this critical time, there are compelling reasons for the EU and Japan to work together in a coordinated manner and provide leadership. We publish today the position paper prepared by the EU-Japan Business Round Table on possible ways to address unprecedented challenges to the health and well-being of our societies and to overcome downturns of our economies.

Vicente Luna, an analyst of worldwide big data on location and mobility, shows in his presentation that Japan is slowly recovering but not all sectors/brands are affected in the same way. The consumer is emerging cautiously and being selective with purchasing decisions. Vicente also looks at luxury retail, innovation/start-up spaces and SoftBank investments.

We wish you a good reading and hope you stay positive and healthy during this difficult time.

Valerie Moschetti
EBC Chief Operating Officer
Webinar on the various financial supports offered by the Japanese Government to counter the effect of the COVID-19
On Friday May 29th, from 3:00pm to 4:00pm through Skype, Mr. Takaaki Nihira, Small and Medium Enterprise Agency, Ministry of Economy, Trade and Industry (METI) will detail in Japanese :
Financial supports to companies (loans and guarantees) (資金繰り支援)
The COVID-19-related Subsidy Programme for Sustaining Businesses (持続化給付金)
Subsidy Project (補助金)
Please register by sending an email at [email protected]
EU-Japan Business Round Table Position Paper on the coronavirus pandemic
The EU-Japan Business Round Table (BRT) was established in its current form in 1999 to foster communication between the Japanese and European industries. The BRT's Members are senior executives from 55 leading European and Japanese companies.

The BRT's main objective is to help develop trade and investment between the EU and Japan, and to encourage industrial cooperation in fields of common interest such as innovation, climate change, or industrial standards.

On May 25th, the BRT published a position paper (https://www.eu-japan-brt.eu/) focussing on the covid-19 health and economic crisis, ahead of a videoconference between European and Japanese authorities on May 26th.

The position paper includes key aspects related to (i) treatment and vaccines, (ii) economic recovery, (iii) connectivity and EU-Japan business cooperation in third countries, and (iv) focus on green and sustainable recovery with reference to the Paris Agreement and SDGs.

There are compelling reasons for the EU and Japan to work together in a coordinated manner and provide leadership at this critical time.
How people are changing on Mobility, Social Distancing, and shaping the Economic Recovery
Vicente J. Luna is an analyst of worldwide big data on location and mobility. This week, he kindly

 charts l

uxury retail, looks at the changes that will happen in 

i

nnovation/

s

tart-

u

p spaces, looks at SoftBank investments as they represent the most interesting mix, and ends with a macro-analysis on the recovery of activity.

You can access his presentation through this link.
From the EBC Tax Committee
Upcoming EBC Committee Meetings
Date
Committee
Time / Location
May 28 (Thursday)
Human Resources
EBC
09:00~
June 1 (Monday)
Materials
EBC
17:30~
June 2 (Tuesday)
Retail & Wholesale
EBC
15:30~
June 11 (Thursday)
Logistics & Freight
EBC
12:00~
June 16 (Tuesday)
Sustainability and Social Responsibility
Off-site
08:30~
June 18 (Thursday)
Telecom Carriers
Telecom Equipment
EBC
10:00~
June 25 (Thursday)
Medical Equipment & Diagnostics Committee
Off-site
14:00~
If you are interested in joining a committee meeting, please contact the EBC to confirm the time and meeting place.
The European Business Council in Japan specializes in Japanese government relations and public affairs. Among our various services, the EBC White Paper is by far the most important document that we annually produce.

The White Paper is read by not only Japanese authorities, but also by the various European embassies and the EU Delegation. Its recommendations to the Japanese government in 25 economic sectors are a useful tool for European businesses to advocate on various problems they encounter on – or to access to – the Japanese market.

We are therefore hoping that we can get the resources that are needed to print, translate and distribute this White Paper, something that has been done now for 20 years.

We would be very glad if you could support our work on improving better economic relations between the EU and Japan through one of OUR VARIOUS SPONSORSHIP PROGRAMMES.

Thank you in advance for your precious contribution.
European Business Council JAPAN
Sanbancho POULA Bldg. 2F, 6-7 Sanbancho, Chiyoda-ku, Tokyo 102-0075
102-0075東京都千代田区三番町6-7三番町POULAビル2F
TEL
03-3263-6222
  |   FAX 03-3263-6223
www.ebc-jp.com/