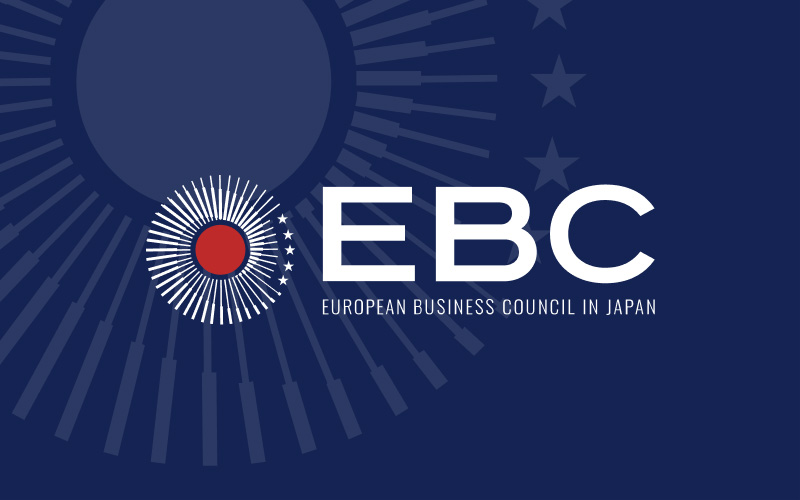 November 18, 2020

EBC Newsletter – November 18, 2020
Dear Friends of the EBC,

Although foreigners can now (re-)enter Japan, they still face some difficulties, and we continue our advocacy work. In this article, Bjorn Kongstad, our Policy Director, summarized our various actions regarding Japan's travel restrictions since May 2020.

If your company is still experiencing problems on this issue, feel free to contact us by email or telephone (03-3263-6222) !

The EBC Food & Agriculture Committee is planning to set up a special meeting on food contact. The Japanese regulation regarding food contact or food contact materials has always been a somewhat special chapter for European companies in the food, packaging and retail sectors. With the change to a so-called positive list system earlier this year, there are still some teething troubles for European companies to overcome. If you have an interest in this topic, please contact the EBC !

To conclude, we bring to your attention a webinar on EU-Japan collaborative industrial innovation – Transforming business in the digital, green and space transitions. It will be held on 1st December 2020 by the EU-Japan Centre for Industrial Cooperation, with various companies' testimonials.

We wish you a good reading and hope you stay positive and healthy during this difficult time.

Valerie Moschetti
EBC Chief Operating Officer
In response to the spread of the coronavirus, Japan began introducing travel restrictions for European countries at the end of March. Thousands who unfortunately were outside the country when the entry ban came into force were prevented from returning to their homes. Those still in Japan were effectively prohibited from leaving, knowing that if they did leave, they could not come back. In May 2020, the EBC began to advocate against the (re-)entry ban to Japan for non-Japanese nationals through various actions.
The EBC Food & Agriculture Committee is planning to set up a special meeting on food contact. The Japanese regulation regarding food contact or food contact materials* have always been a somewhat special chapter for European companies in the food, packaging and retail sectors. With the change to a so called positive list system earlier this year, there are still some teething troubles for European companies to overcome.

The meeting will be on 1 December from 09H00. It will be a hybrid meeting, meaning that you are more than welcome to come to the EBC office or to access the meeting via Webex.

If you are interested in joining us, do let us know ([email protected]) whether you will be coming to the office or whether you will join via Webex.

Looking forward to seeing you.

* Food contact materials are basically materials that come in contact with food, such as packaging, containers, plates and drinking glasses. In Japan, also some toys are covered by the same regulation.
During this webinar, the EU-Japan Centre for Industrial Cooperation will present 4 EU-Japan business cooperation cases:
Enabling the new space economy: the benefits of space logistics
Robot as a Service for inspection and maintenance of infrastructures
New health-creation system beyond treatment – preventative health tools for lifelong health
Global business and collaboration on an eco-friendly foamed glass "Porous Alpha
For further information and registration, please read this programme.
Date
Committee
Time / Location
November 19 (Thursday)
Medical Equipment & Diagnostics Committee
Off-site
14:00~
November 26 (Thursday)
Human Resources
EBC
09:00~
November 27 (Friday)
Legal Services
Off-site
12:00~
November 27 (Friday)
Automotive Components & Aftermarket
EBC
16:00~
November 30 (Monday)
Materials
EBC
17:30~
December 1 (Tuesday)
Retail & Wholesale
EBC
15:30~
December 2 (Wednesday)
Energy
EBC
13:30~
December 10 (Thursday)
Telecom Carriers
Telecom Equipment
EBC
10:00~
December 10 (Thursday)
Medical Equipment & Diagnostics Committee
Off-site
14:00~
December 15 (Tuesday)
Sustainability and Social Responsibility
Off-site
08:30~
If you are interested in joining a committee meeting, please contact the EBC to confirm the time and meeting place.
The EBC published its annual document on the Japanese regulatory business environment last July.

This year's White Paper is called "Strengthening partnerships – in crisis and opportunity alike" . The opportunity is of course referring to the EU-Japan EPA that entered into force on February 1, 2019. Unfortunately, at the same time the COVID -19 crisis struck the world.

We are, however, confident that with our recommendations, the European and Japanese economies and companies will continue to prosper.
European Business Council JAPAN
Sanbancho POULA Bldg. 2F, 6-7 Sanbancho, Chiyoda-ku, Tokyo 102-0075
102-0075東京都千代田区三番町6-7三番町POULAビル2F
TEL
03-3263-6222
  |   FAX 03-3263-6223
www.ebc-jp.com/