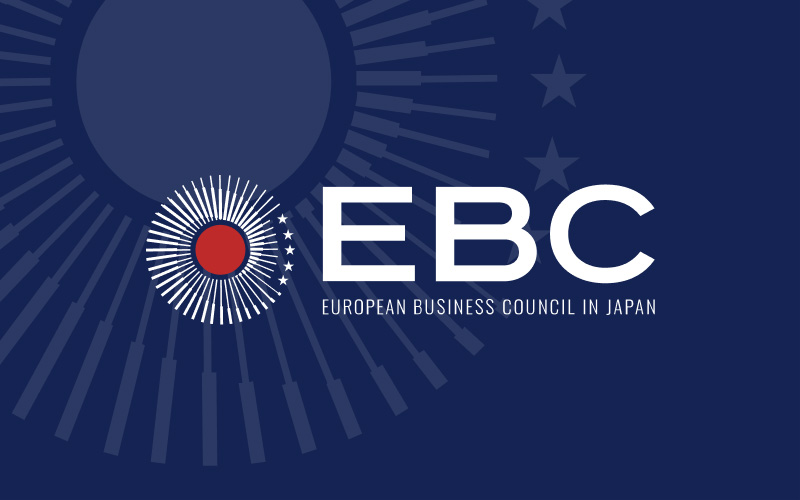 November 25, 2020

EBC Newsletter – November 25, 2020
Dear Friends of the EBC,

About a month ago, Prime Minister Suga announced that the country will be carbon-neutral by 2050. The European Commission also made similar declarations when it was newly established in the spring of 2020. On the corporate side, various projects have been launched and several are in the pipeline that will support and make it possible to achieve these targets.

The EBC would therefore like to invite you to its fourth and last briefing of the year on the subject of de-carbonisation. The aim of the webinar is to showcase what some of the most important sectors are doing in this regard.

The EBC Tax Committee has not been inactive during the past weeks and worked on an EBC Statement on the proposals to amend the inheritance tax regulations. The Japanese Government has recently indicated that it might remove, in some circumstances, worldwide inheritance taxation for foreign nationals. This has and continues to be a disincentive to remain in Japan beyond ten years over a 15 year-period. While the EBC welcomes the recognition of the Government of Japan that the inheritance tax burden is making it difficult for financial institutions to recruit and retain talent, the same applies to other industries. They are all vital for the Japanese economy. Therefore, the EBC strongly requests Japan to repeal the excessively high inheritance tax burden for foreigners.

Finally, we invite you to have a look at Invest Tokyo 2020 Success Stories (English / Japanese), a variety of measures promoted by the Tokyo Metropolitan Government to support foreign financial companies, startups, and entrepreneurs with advanced technologies and expertise in financial business.

We wish you a good reading and hope you stay positive and healthy during this difficult time.

Valerie Moschetti
EBC Chief Operating Officer
About a month ago, Prime Minister Suga announced that the country will be carbon-neutral by 2050. The European Commission also made similar declarations when it was newly established in the spring of 2020. On the corporate side, various projects have been launched and several are in the pipeline that will support and make it possible to achieve these targets.

The EBC would therefore like to invite you to its fourth and last briefing of the year on the subject of de-carbonisation. The aim of the webinar is to showcase what some of the most important sectors are doing in this regard.
The EBC Tax Committee has not been inactive during the past weeks and worked on an EBC Statement on the proposals to amend the inheritance tax regulations. The Japanese Government has recently indicated that it might remove, in some circumstances, worldwide inheritance taxation for foreign nationals. This has and continues to be a disincentive to remain in Japan beyond ten years over a 15 year-period. While the EBC welcomes the recognition of the Government of Japan that the inheritance tax burden is making it difficult for financial institutions to recruit and retain talent, the same applies to other industries. They are all vital for the Japanese economy. Therefore, the EBC strongly requests Japan to repeal the excessively high inheritance tax burden for foreigners.
The Tokyo Metropolitan Government has been promoting a variety of measures to support foreign financial companies, startups, and entrepreneurs with advanced technologies and expertise in financial business.

Tokyo's Special Zone for Asian Headquarters project aims to attract more than 400 foreign companies including 40 foreign companies related to the Fourth Industrial Revolution and 30 foreign financial companies, establishing their Asia regional headquarters or R&D centers in the Special Zone by 2020. Overseas financial companies attracted to Tokyo in fiscal year 2019 are listed on the following website:  https://www.senryaku.metro.tokyo.lg.jp/en/gfct/invited-2019.html

You can also read the 2020 Success Stories document (English / Japanese) for your reference.

Business Development Center Tokyo
(Tokyo Metropolitan Government)
Tokyo City I, JP Tower (KITTE) Building
2-7-2 Marunouchi, Chiyoda-ku, Tokyo 100-7090, Japan
E-mail: [email protected]
Tel: 03-6269-7090
Date
Committee
Time / Location
November 26 (Thursday)
Human Resources
EBC
09:00~
November 27 (Friday)
Legal Services
Off-site
12:00~
November 27 (Friday)
Automotive Components & Aftermarket
EBC
16:00~
November 30 (Monday)
Materials
EBC
17:30~
December 1 (Tuesday)
Retail & Wholesale
EBC
15:30~
December 2 (Wednesday)
Energy
EBC
13:30~
December 10 (Thursday)
Telecom Carriers
Telecom Equipment
EBC
10:00~
December 10 (Thursday)
Medical Equipment & Diagnostics Committee
Off-site
14:00~
December 15 (Tuesday)
Sustainability and Social Responsibility
Off-site
08:30~
If you are interested in joining a committee meeting, please contact the EBC to confirm the time and meeting place.
The EBC published its annual document on the Japanese regulatory business environment last July.

This year's White Paper is called "Strengthening partnerships – in crisis and opportunity alike" . The opportunity is of course referring to the EU-Japan EPA that entered into force on February 1, 2019. Unfortunately, at the same time the COVID -19 crisis struck the world.

We are, however, confident that with our recommendations, the European and Japanese economies and companies will continue to prosper.
European Business Council JAPAN
Sanbancho POULA Bldg. 2F, 6-7 Sanbancho, Chiyoda-ku, Tokyo 102-0075
102-0075東京都千代田区三番町6-7三番町POULAビル2F
TEL
03-3263-6222
  |   FAX 03-3263-6223
www.ebc-jp.com/