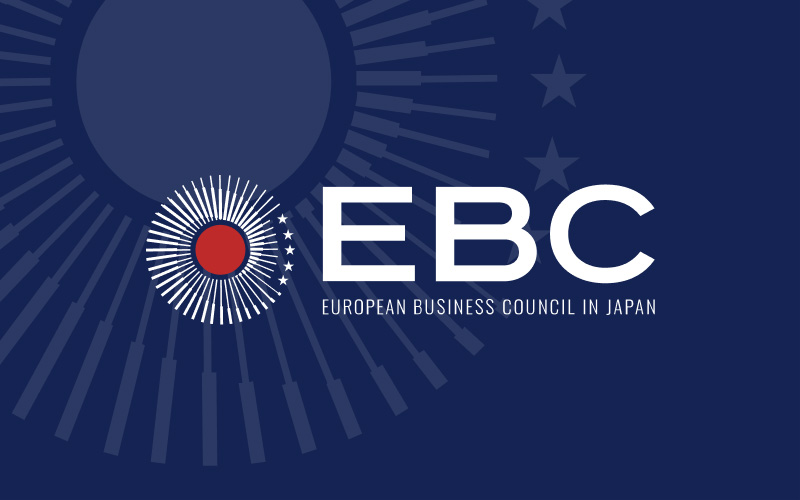 October 11, 2023

EBC Newsletter – October 11, 2023

Dear Friends of the EBC,

On 4 October, the EBC management met with a delegation of the European Economic and Social Committee (EESC) / Japan Follow-up Committee. The EESC is a consultative body of the European Union and represents European organised civil society, composed of representatives of employers' and workers' organisations and other interest groups. We exchanged on the current situation and future perspectives for European business in Japan, and on the main obstacles and competitors in developing EU business in Japan.
I would also like to draw your attention to an event that might be of interest to you:

On 19 October, the Delegation of the European Union to Japan, the EU-Japan Centre for Industrial Cooperation and the EU-Japan Connectivity Partnership Program are organising a hybrid event about financing opportunities for EU-Japan business cooperation in Africa. Financing organizations such as JBIC, JICA and the EIB will present their financing instruments for the private sector. The event will start at 4 PM and will be hosted by the Delegation of the EU to Japan and online.
Agenda and registration

The EBC team is looking forward to hearing from you soon,

Valerie Moschetti
EBC Chief Operating Officer
Prime Minister Fumio Kishida pledged on Monday that a part of an upcoming economic package, to be drawn up possibly by the end of the month, will include measures to boost the development of artificial intelligence. Kishida made the remarks at the ongoing Internet Governance Forum in Kyoto, western Japan. The outcome of the discussions will be utilized in the Hiroshima AI Process, in which the Group of Seven industrialized nations will establish rules on AI-related topics to avoid the misuse of the technology. (The Mainichi)
Japan plans to host a leaders' meeting on reducing carbon emissions with most ASEAN members and Australia in December, Japanese government sources said. The summit in Tokyo will be held under the Asia Zero Emission Community framework launched by Japanese Prime Minister Fumio Kishida's government last year, aimed at promoting decarbonization in the fast-growing Asian region. (Japan  Today)
The Japan Air Self-Defense Force has opened an office in Tokyo to share information on outer space with businesses and research institutions. The Oct 2 launch of the Japan Space Collaboration and Innovation Office is part of the country's effort to boost defense capacity in space, where competition among major powers such as the United States, China and Russia has been intensifying.(Japan Today)
Date
Committee
Time / Location
Oct 16 (Mon)
Food & Agriculture
hybrid
1730~
Oct 18 (Wed)
Legal Services
TBC
1200~
Oct 19 (Thu)
Medical Equipment & Diagnostics
Off-site
1430~
Oct 20 (Fri)
Railways
hybrid
1600~
Oct 26 (Thu)
Human Resources
hybrid
0930~
Oct 26 (Thu)
Automotive Components & Aftermarket
Off-site
1600~
Nov 2 (Thu)
Railways
hybrid
1600~
Nov 15 (Wed)
Logistics & Freight
hybrid
0900
Nov 16 (Thu)
Human Resources
hybrid
0930~
Nov 16 (Thu)
Medical Equipment & Diagnostics
Off-site
1430~
Nov 16 (Thu)
Automotive Components & Aftermarket
TBC
If you are interested in joining a committee meeting, please contact the EBC to confirm the time and meeting place.
European Business Council JAPAN
Toranomon Hills Business Tower 15F, 1-17-1 Toranomon, Minato-ku, Tokyo 105-6415
105-6415 東京都港区虎ノ門1-17-1 虎ノ門ヒルズビジネスタワー15階
www.ebc-jp.com/