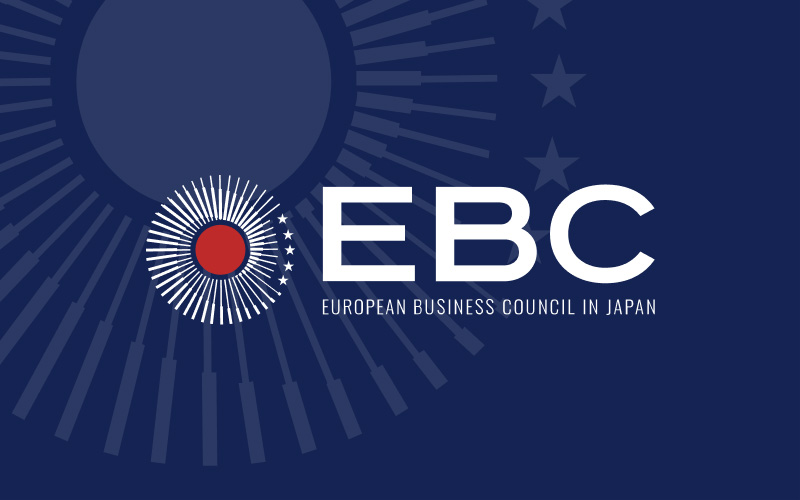 October 13, 2022

EBC Newsletter – October 13, 2022

*|MC_PREVIEW_TEXT|*
Dear Friends of the EBC,

Today, we would like to share with you three events organised by our stakeholders and partner organisations:
SCCIJ October Luncheon – "Remarks on Implementing the SNB's Monetary Policy in an Environment of Positive Interest Rates" – 20 October 2022, at Tokyo EDITION.
Two guest speakers from the Swiss National Bank (SNB), Dr. Andréa M. Maechler (Member of the Governing Board, Head of Department III) and Dr. Thomas Moser (Alternate Member of the Governing Board, Deputy Head of Department III), will discuss the rationale and implementation of the SNB's positive interest rates policy, and how this could be viewed in light of similar policy actions by other central banks around the world, notably in Asia.
Online EU-Japan Green Tech Pitching & Matchmaking with Vietnam  – Pitching:25 October, B2B Matchmaking: 26-27 OctoberThe EU-Japan Centre invites EU green tech companies already active in Japan and interested in expanding their business with Japanese partners to Vietnam, to take part in an online pitching event, followed by two days of online B2B matchmaking. Applications for the pitching event are open until Monday, 17 October 2022.
The EU-Japan Digital Partnership: EU-Japan Digital Cooperation for Effective Societal Implementation of Digital Technologies  – 17 October 2022, at Toranomon Hills, organised by Japan Electronics and Information Technology Industries Association (JEITA), Japan Business Council in Europe (JBCE)and co-Organised by DIGITALEUROPE
Registration
We hope you stay positive and healthy during this difficult time.
Valerie Moschetti
EBC Chief Operating Officer
Prime Minister Fumio Kishida and relevant Cabinet ministers will exchange views with auto industry officials as early as next month on promoting the decarbonization of automobiles through synthetic fuels and other means. Kishida told reporters about the plan after watching the final race of the Formula 1 Honda Japanese Grand Prix 2022 at the Suzuka Circuit in Suzuka, Mie Prefecture, on Sunday. (The Japan News)
A Japan-led offset credit trading framework to reduce greenhouse gas emissions will be launched at the 27th Conference of the Parties to the U.N. Framework Convention on Climate Change (COP27) in Egypt next month.
More than 30 countries and international organizations are expected to participate in the framework. (The Japan News)
Japan removed on Tuesday its cap on daily arrivals and its ban on individual, non-prearranged trips as it seeks to revive the country's struggling inbound tourism sector by easing its COVID-19 border controls.
In addition to lifting the 50,000-person entry cap and ending the requirement that tourists travel on package tours, Japan will no longer require visitors to obtain a visa if they are citizens of one of 68 countries and regions with which Japan had a waiver agreement before the pandemic. (The Mainichi)
Date
Committee
Time / Location
Oct 20 (Thu)
Insurance
Web
0730~
Oct 20 (Thu)
Medical Equipment & Diagnostics Committee
Off-site
1430~
Oct 21 (Fri)
Railways
EBC & Web
1600~
Nov 17 (Thu)
Human Resources
Web
0930~
Nov 17 (Thu)
Medical Equipment & Diagnostics Committee
Off-site
1430~
Nov 18 (Fri)
Railways
EBC & Web
1600~
Nov 24 (Thu)
Legal Services
Web
09:00~
Nov 18 (Fri)
Automotive Components & Aftermarket
EBC & Web
1600~
If you are interested in joining a committee meeting, please contact the EBC to confirm the time and meeting place.
European Business Council JAPAN
Toranomon Hills Business Tower 15F, 1-17-1 Toranomon, Minato-ku, Tokyo 105-6415
105-6415 東京都港区虎ノ門1-17-1 虎ノ門ヒルズビジネスタワー15階
www.ebc-jp.com/