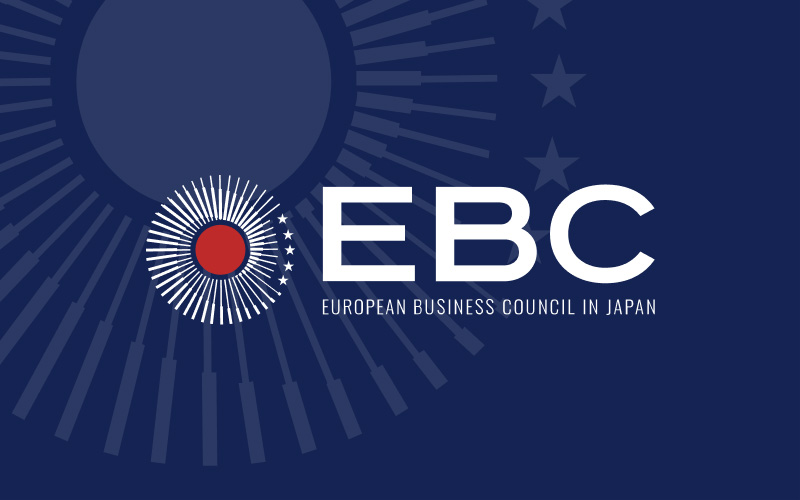 October 05, 2022

EBC Newsletter – October 5, 2022
Dear Friends of the EBC,

Today, we would like to share with you some information and events organised by our stakeholders, committee members and partner organisations:
A conference on the "Recent developments in EU and Japanese IP law", co-organised by the EU-Japan Centre for Industrial Cooperation and the French Embassy in Tokyo (20 October, 15:00-17:20 + reception)
A Gala Dinner & Concert to celebrate the 50th anniversary of the Italian Chamber of Commerce in Japan, scheduled on December 2nd at Happo-en
A scholarship granted to a high schooler (letter / application guidelines) by one of the EBC's long-standing members, Felix Einsel of Sonderhoff & Einsel. He established a foundation, Heinessen multicultural Support Foundation, to aid multiculturally oriented legal / patent attorney education in Japan. The goal of the foundation is to make multiculturalism a reality in the education of future lawyers and patent attorneys in Japan
We hope you stay positive and healthy during this difficult time.
Valerie Moschetti
EBC Chief Operating Officer
Prime Minister Fumio Kishida expressed his determination to do his utmost to combat rising prices and raise wages in a policy speech during an extraordinary session of the Diet convened Monday.
Aware of the increasing criticism of his administration, he also emphasized that he will humbly face the harsh voices of the people.
In his speech, the prime minister placed top priority on economic revitalization, focusing on three points: responding to high prices and the weak yen; increasing wage hikes and establishing a system to keep them high; investments and reforms for growth. (The Japan News)

Japan is considering extending its subsidy program for oil wholesales to lower retail gasoline prices beyond its current year-end deadline to next spring, intending to prevent a sharp hike in fuel costs amid persistent supply concerns triggered by Russia's invasion of Ukraine, sources familiar with the situation said Saturday.
The government plans to set aside more than 1 trillion yen from the envisaged fiscal 2022 second supplementary budget that will finance an economic stimulus package to be finalized in October, the sources said. (The Mainichi)

The government on Friday took a step toward domestic production of sustainable aviation fuel (SAF) by establishing a working group involving more than 10 companies, including petroleum and chemical manufacturers.
The Ministry of Land, Infrastructure, Transport and Tourism expert group will strive to create a cooperative framework to obtain international certification for the fuel and begin production in fiscal 2025.
SAF is made from used cooking oil and other types of discarded waste and is said to reduce CO2 emissions by 60% to 80% compared to crude oil-derived jet fuel and is attracting attention as a next-generation fuel. (The Japan News)
Date
Committee
Time / Location
Oct 6 (Thu)
Human Resources
Web
0930~
Oct 20 (Thu)
Insurance
Web
0730~
Oct 20 (Thu)
Medical Equipment & Diagnostics Committee
Off-site
1430~
Oct 21 (Fri)
Railways
EBC & Web
1600~
Nov 17 (Thu)
Human Resources
Web
0930~
Nov 17 (Thu)
Medical Equipment & Diagnostics Committee
Off-site
1430~
Nov 18 (Fri)
Railways
EBC & Web
1600~
Nov 24 (Thu)
Legal Services
Web
09:00~
Nov 25 (Fri)
Automotive Components & Aftermarket
Off-site & Web
1600~
If you are interested in joining a committee meeting, please contact the EBC to confirm the time and meeting place.
European Business Council JAPAN
Toranomon Hills Business Tower 15F, 1-17-1 Toranomon, Minato-ku, Tokyo 105-6415
105-6415 東京都港区虎ノ門1-17-1 虎ノ門ヒルズビジネスタワー15階
www.ebc-jp.com/