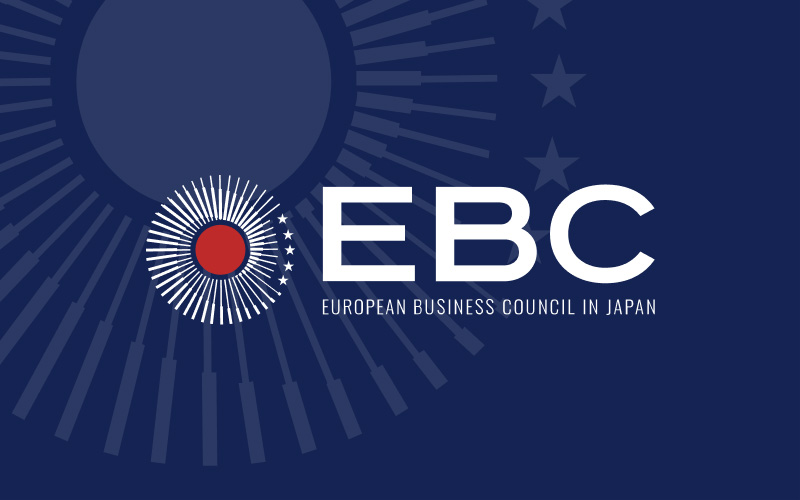 October 07, 2020

EBC Newsletter – October 7, 2020
Dear Friends of the EBC,

Since October 1st, although tourists are still excluded, foreigners can enter Japan again under certain conditions (paperwork and a COVID-19 test). The EBC has gathered information for you on the new procedures for residents and non-residents to come (back) to Japan.

As you know, the main mission of the EBC is to advocate and to lobby for EBC members and for our stakeholders, the European National Chambers of Commerce in Japan. Recently, the EBC worked hard to successfully advocate against the (re-)entry ban to Japan for non-Japanese nationals, which affected both people and companies. Our 23 Committees are devoted to improving the business environment for European companies in Japan. The EBC Committees highlight issues and make practical recommendations for how they should be resolved. In this Newsletter, we offer you the opportunity to get an insight on our Airlines Committee.

We also advertise 2 online events about important topics: business and climate action (EU-Japan Webinar | 2020: Raising the ambition for climate) and EU SMEs and international trade (Road to recovery – empowering small businesses to trade internationally).

Finally, we publish a link to a questionnaire on the current Japanese government procurement measures that gives you a chance to express your concerns and requests regarding these measures.

We wish you a good reading and hope you stay positive and healthy during this difficult time.

Valerie Moschetti
EBC Chief Operating Officer
New information on how to apply for visas since October 2020
METI and MOFA have published new information on how to apply for visas (both long-term and short-term) since 1 October 2020.
– Japanese
– EnglishThe Immigration Services Agency (ISA) has also published a FAQ for non-Japanese residents. Please note that it only covers what the ISA is in charge of, i.e. not the COVID-19 testing.
– Japanese
– English
The EBC Airlines Committee is one of the most impacted by the Covid-19 crisis. This EuroBiz article will give you an idea of how it works and what it can do to help its members.
EU-Japan Webinar | 2020: Raising the ambition for climate
In this webinar, the European Commission and the Ministry of Environment of Japan will introduce the latest developments in their ambitions and efforts for climate action. Two businesses, L'Oréal from Europe and Ricoh from Japan, will illustrate how the Paris Agreement and the NDCs set by governments are key towards shifting business activities in sectors such as cosmetics and electronics.

Date: 19th October 2020 – 4:00pm-5:30pm (JST)
Program and registration:
Online Conference: Road to recovery – empowering small businesses to trade internationally / Access2markets platform
On 13 October, Executive Vice President and acting Trade Commissioner Valdis Dombrovkis will open the conference "Road to recovery – empowering small businesses to trade internationally. Policy responses for the post-pandemic economy". Denis Redonnet, the Chief Trade Enforcement Officer, will also elaborate on the priorities of his mission and work plan for the coming months.

On this occasion the Commission will also present the Access2Markets platform. The new Access2Markets portal is a comprehensive one-stop-shop for companies to obtain information about trade agreements. Designed specifically to enhance SME use, it brings into a single, easy-to-use tool all relevant information for SMEs: export and import information including rule of origin tool ROSA and also information regarding intra-EU trade.

You can register your participation to the online conference through the following link: https://ec.europa.eu/eusurvey/runner/SME-Event-202010

Before the event, you will receive a reply confirming your registration and granting you access to the online conference. If you do not receive a confirmation, please contact: [email protected]
Questionnaire regarding the current Japanese government procurement measures
The Japanese government has been voluntarily implementing necessary measures in the field of the government procurement in order to ensure more transparent, fair and competitive procurement procedures, and to provide easy market access opportunities for both domestic and foreign competitive suppliers.

Based upon the Understanding among related ministries and agencies concerned in procurement of 31 March 2014 – a successor to the Action Program Committee's decision of 28 March 1994 – the following questionnaire has been published (English / Japanese) to receive opinions and requests from domestic and foreign companies and business associations regarding the current government procurement measures.
Upcoming EBC Committee Meetings
Date
Committee
Time / Location
October 20 (Tuesday)
Sustainability and Social Responsibility
Off-site
08:30~
October 22 (Thursday)
Medical Equipment & Diagnostics Committee
Off-site
14:00~
October 29 (Thursday)
Insurance
Off-site
07:30~
November 12 (Thursday)
Logistics & Freight
EBC
12:00~
November 19 (Thursday)
Medical Equipment & Diagnostics Committee
Off-site
14:00~
November 26 (Thursday)
Human Resources
EBC
09:00~
November 27 (Friday)
Legal Services
Off-site
12:00~
November 27 (Friday)
Automotive Components & Aftermarket
EBC
16:00~
November 30 (Monday)
Materials
EBC
17:30~
If you are interested in joining a committee meeting, please contact the EBC to confirm the time and meeting place.
European Business Council JAPAN
Sanbancho POULA Bldg. 2F, 6-7 Sanbancho, Chiyoda-ku, Tokyo 102-0075
102-0075東京都千代田区三番町6-7三番町POULAビル2F
TEL
03-3263-6222
  |   FAX 03-3263-6223
www.ebc-jp.com/