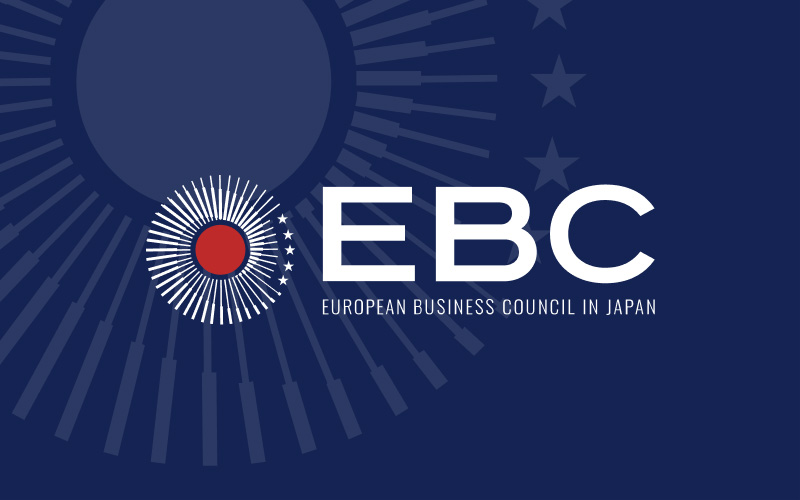 September 01, 2021

EBC Newsletter – September 1, 2021
Dear Friends of the EBC,

I would like to thank all the European companies that have contacted the EBC in the last few days about the negative consequences of the Japanese border restrictions on their business and that of their Japanese customers/partners. Rest assured that we are continuing our meetings and actions for a speedy resolution.

Please keep sending us your testimonies, they are very valuable to us!

Vaccination against Covid-19, which will certainly contribute to improve this situation, is increasing in Japan. The EBC would like to highlight the various vaccination initiatives taken by the European national Chambers of Commerce in Japan. Soon they will have vaccinated 4,305 people (foreigners and Japanese) as their contribution to the fight against the coronavirus. Not to forget, this is in addition to what European companies have already organised for their personnel. European companies and national chambers of commerce are proud to contribute to the collective effort and hope to enjoy very soon the benefits of the Europe-Japan Free Trade Agreement under the best conditions.

Finally, let me remind you of the Japan Business Conference 2021, organised by METI and JETRO, dedicated to innovation in green investment and realization of carbon neutrality by 2050, areas in which cooperation between Europe and Japan has great potential.

We hope you stay positive and healthy during this difficult time.

Valerie Moschetti
EBC Chief Operating Officer
The European national Chambers vaccinate 4,305 people as their contribution to the fight against Covid-19
Vaccination has been a hot topic all over the world. After a slow start, with massive efforts and several initiatives, Japan is getting closer to the 50% fully vaccinated mark.

The EBC would like to highlight the various vaccination initiatives taken by the European national Chambers of Commerce and European companies. In total, the European Chambers, via 7 national chambers, will have vaccinated 4,305 people: 2,205 people in July and August, and an additional 2,100 are scheduled to get their first jab before mid-September. European companies, on the other hand, have already organised vaccinations for their employees and family.

The EBC would like to stress that many nationalities, both staff of chamber member companies and their families, have had the chance to get vaccinated.

Just as the Japanese Government believes that vaccination is important, so do the European national. We stand ready to do our part, and we hope that all of us, by this action, can get closer to a world without COVID.
Japan Business Conference 2021
NET ZERO Leaders Summit
The Japan External Trade Organization (JETRO) and Japan's Ministry of Economy, Trade and Industry (METI) are pleased to announce the jointly organized "NET ZERO Leaders Summit (Japan Business Conference 2021)" to accelerate innovation in green investment and realization of carbon neutrality by 2050.
Among the next events:
3 & 10 September: Why Japan? How to utilize Japan to make success?
7 & 10 September: Japan's hydrogen fuel cell sector – opportunities,lessons and advice
9 & 10 September: Global Startup Connexion: J-Startups for NET-ZERO
The events will be held online.
To register: https://www.jetro.go.jp/en/events/jbc/
Date
Committee
Time / Location
Sep 2 (Thursday)
Liquor
Web
0830~
Sep 3 (Friday)
Legal Services
Web
0900~
Sep 8 (Wednesday)
Energy
EBC&Web
1330~
Sep 16 (Thursday)
Telecommunications Equipment
Web
1000~
Sep 16 (Thursday)
Medical Equipment & Diagnostics Committee
Off-site
1430~
Sep 24 (Friday)
Railways
EBC & Web
1600~
Sep 30 (Thursday)
Human Resources
Web
0900~
If you are interested in joining a committee meeting, please contact the EBC to confirm the time and meeting place.
The EBC published its annual document on the Japanese regulatory business environment last July.

This year's White Paper is called "Strengthening partnerships – in crisis and opportunity alike" . The opportunity is of course referring to the EU-Japan EPA that entered into force on February 1, 2019. Unfortunately, at the same time the COVID -19 crisis struck the world.

We are, however, confident that with our recommendations, the European and Japanese economies and companies will continue to prosper.
European Business Council JAPAN
Sanbancho POULA Bldg. 2F, 6-7 Sanbancho, Chiyoda-ku, Tokyo 102-0075
102-0075東京都千代田区三番町6-7三番町POULAビル2F
TEL
03-3263-6222
  |   FAX 03-3263-6223
www.ebc-jp.com/
• This email has been sent from a send-only address. Please do not reply to this email.
• If you would like to change your registered e-mail address, please click here.
• Please click here to unsubscribe.