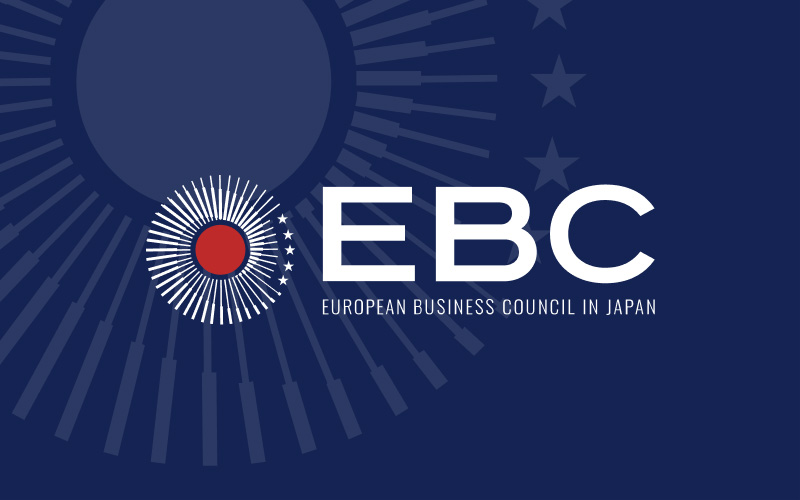 September 17, 2020

EBC Newsletter – September 17, 2020




Dear Friends of the EBC,

After our new Statement on the latest changes to the (re-)entry ban to Japan issued on September 9, the EBC continues its high-level meetings in Japanese ministries to report them the problems faced by European companies and find a quick solution.

This week, we are posting webinar announcements on various subjects of interest: Digital Banking, European Workforce in Japan and Covid-19 impacts, a Biotech & Pharma Virtual Partnering Event and the 10th EU-Japan Digital Strategies Workshop.

We wish you a good reading and hope you stay positive and healthy during this difficult time.

Valerie Moschetti
EBC Chief Operating Officer

Spanish Chamber of Commerce in Japan:
2 online events
Digital Banking: Where to Next?
September 30 @ 6:00 pm – 7:15 pm

On September 30 (Wednesday) at 18:00 JST, the Spanish Chamber of Commerce in Japan (SpCCJ) organises an online seminar together with their Corporate Member Mormedi, inviting Japanese retail bank Sony Bank and Spanish online payment provider Bizum, to discover the current movements of digital transformation in the financial industry.

The session will be moderated by José Esteves, Associate Dean for MBA & TECHMBA, at SpCCJ's Corporate Member IE Business School.

https://spanishchamber.jp/event/digital-banking-where-to-next/

European Workforce in Japan and Covid-19 impacts: immigration, tax, and social security issues
October 6 @6:00pm

On October 6, the Spanish Chamber of Commerce in Japan organizes an online seminar inviting PwC's Global Mobility Team to analyse the impact that the Covid19 related travel-ban has caused to the European workforce in Japan.

https://mailchi.mp/44c10b1e2d70/european-workforce-in-japan-and-covid19-impacts?e=ea94e1828d
EU-Japan Centre for Industrial Cooperation and Osaka Bio Headquarters (Osaka Prefecture): Biotech & Pharma Virtual Partnering Event
September 28 to 30
More than 200 Biotech and Pharma professionals from Europe and Japan meet online

The EU-Japan Centre for Industrial Cooperation and Osaka Prefectural Government will jointly organize a Biotech & Pharma Virtual Partnering Conference 2020 from 28-30 September. This annual drug discovery partnering event, which used to take place in Osaka, will be held online this year. All B2B meetings will take place in the form of video calls, directly made via an online partnering platform: https://bio-pharma-osaka-2020.b2match.io/

Many of the participants from Europe are biotech companies which target the Japanese market. Japanese registrants stretch from big pharma to biotech ventures looking for European partners. Participation in this event is free of charge.

Last minute participants can register on the above website or contact the EU-Japan Centre by e-mail until September 23. (Daniel Gralki, Masae Ozawa – [email protected] ).
Invitation to the 10th EU-Japan Digital Strategies Workshop
October 1 & 2
The Directorate General for Communications Networks, Content & Technology (DG CONNECT) of the European Commission is co-organising this online Workshop with the Japanese government on 1st and 2nd October 2020 afternoon (Tokyo time).

The workshop, co-chaired on the European Commission side by Director Gerard de Graaf, will provide an excellent opportunity for European and Japanese industries and stakeholders to present their viewpoints to public authorities in charge of digital policy in the EU and in Japan. It aims in particular at exchanging views and deepening the cooperation on topics detailed in the provisional agenda attached, and below. The Japanese side will be represented by the administration (Ministry of Internal Affairs & Communications (MIC), Ministry of Economy, Trade and Industry (METI), Cabinet Office, and by industry (delegation led by Keidanren).

Provisional topics for the workshop:
On Day 1 (16:00-18:45 Tokyo time): 5G and 6G; Cyber Security; Digital for Climate Change and Smart Cities; Artificial Intelligence.
On Day 2 (16:00-18:30): Platforms; Data; Trust Services

Please register for the Workshop at:  [email protected]
To register, please include the following information: Name, Position, Company, Email Address. Once received, your registration will be confirmed by email after internal screening.
Upcoming EBC Committee Meetings
Date
Committee
Time / Location
September 24 (Thursday)
Human Resources
EBC
09:00~
September 24 (Thursday)
Medical Equipment & Diagnostics Committee
Off-site
14:00~
October 20 (Tuesday)
Sustainability and Social Responsibility
Off-site
08:30~
October 22 (Thursday)
Medical Equipment & Diagnostics Committee
Off-site
14:00~
October 29 (Thursday)
Insurance
Off-site
07:30~
November 12 (Thursday)
Logistics & Freight
EBC
12:00~
November 19 (Thursday)
Medical Equipment & Diagnostics Committee
Off-site
14:00~
If you are interested in joining a committee meeting, please contact the EBC to confirm the time and meeting place.
European Business Council JAPAN
Sanbancho POULA Bldg. 2F, 6-7 Sanbancho, Chiyoda-ku, Tokyo 102-0075
102-0075東京都千代田区三番町6-7三番町POULAビル2F
TEL
03-3263-6222
  |   FAX 03-3263-6223
www.ebc-jp.com/