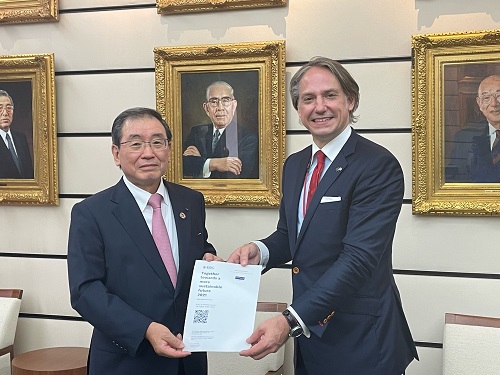 September 05, 2022

The EBC met with Keidanren Chairman Masakazu Tokura

The EBC Chairman, Michael Mroczek, together with Chief Operating Officer Valerie Moschetti and Chief Policy Director Bjorn Kongstad, met with Nippon Keidanren Chairman Masakazu Tokura on 2 September 2022.

This meeting was an opportunity to present the latest activities of the EBC, but also to convey gratitude to Keidanren for its advocacy for relaxed border measures. Just as the EBC, Keidanren continues to advocate for open borders in Japan.

The Chairs exchanged opinions on the Economic Security Promotion Act and the upcoming guidelines and ordinances. Our views on this topic are very much aligned and both organisations are working hard to make certain the Act and ordinances will not become an obstacle to trade between Europe and Japan.

Mr. Mroczek also took the opportunity to talk about the importance of the EU-Japan EPA. Mr. Tokura praised this agreement and hoped that efforts would be made to further deepen the economic relationship.

Lastly, the EBC handed over its latest digital White Paper.