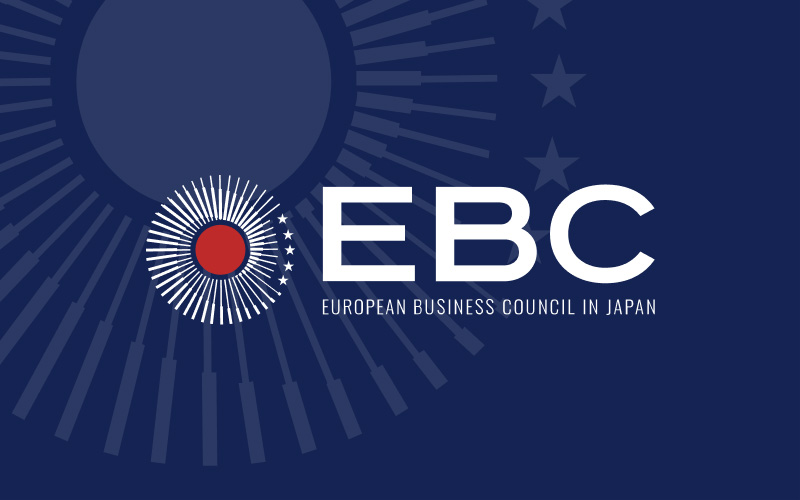 February 22, 2023

EBC Newsletter – February 22, 2023
Dear Friends of the EBC,

The EBC committees monitor the Japanese market, work on non-tariff barriers to produce the EBC White Paper, meet with ministries and various organisations and set up events for their members.
On 31 March, the EBC Automotive Components and Aftermarket Committee will hold a speaker's event. KPMG Japan's industry leading Automotive Practice will introduce us to where the automotive industry is heading in 2023.
If you are not yet a member of this committee, it is a good opportunity to understand their activities!
Details and registration: registration link here to register for the in-person session

Today, I would also like to share with you 2 events organised by EBC stakeholders or close partners:
On 2 March 2023, the Swiss Chamber of Commerce and Industry in Japan invites you to its monthly Luncheon: "The Evolution of ESG: Transparency Paves the Road Ahead"
Dr. Philipp Aeby, Global CEO & Co-Founder of RepRisk AG, will provide insights into how risk-focused ESG data that goes beyond company-self reporting is essential in addressing sustainability risks in operations and across supply chains, from human rights violations to biodiversity loss.
Date: 2 March 2023
Time: 12:00 – 14:00
Venue: Shangri-La Tokyo
Fee: JPY 6,500 (SCCIJ Members, EBC Chambers Members); JPY 8,000 (non-members)
Event page: https://www.sccij.jp/events/march-luncheon-2023/
In the series: Industrial Sector Roadmap to Carbon Neutrality – Efforts of European and Japanese Chemical industries, the EU-Japan Centre for Industrial Cooperation organises a Webinar: "Chemical Industry's Vision on Carbon Neutrality" (With English-Japanese Simultaneous Interpretation). Relevant governmental agencies and industry experts of the EU and Japan will discuss about their efforts, challenges and future initiatives, and explore the possibilities for bilateral and regional industrial cooperation in the energy & chemical field.
Date: 27 February 2023
Time: 17:00-18:30
Free event
Event page: Webinar: Chemical Industry's vision on Carbon Neutrality | EU-Japan
We are looking forward to seeing you soon at one of these events!
Valerie Moschetti
EBC Chief Operating Officer
The government on Tuesday retained its monthly assessment that the Japanese economy is "picking up moderately" despite some weakness while changing its wording on wholesale prices for the first time in about a year to reflect slower price growth. (The Mainichi)
The Bank of Japan has said that it will start a new test on the feasibility of a central bank digital currency in April.
In the experiment, also to be joined by private-sector companies including payment service providers and financial institutions, technical challenges will be examined in case "a digital yen" is issued, according to the BOJ. (The Japan News)
Japan is joining in the competition with other nations in Southeast Asia and Europe to attract outstanding young talent by offering special measures that include a two-year stay and allowing them to bring their families.
The government has approved a new visa sub-category designed to attract foreign graduates of elite universities. (The Asahi Shimbun)
Date
Committee
Time / Location
Feb 24 (Fri)
Medical Equipment & Diagnostics
Off-site
1430~
Mar 10 (Fri)
Liquor
hybrid
0830~
Mar 13 (Mon)
Materials
hybrid
1730~
Mar 16 (Thu)
Human Resources
hybrid
0930~
Mar 17 (Fri)
Railways
hybrid
1600~
Mar 22 (Wed)
Food & Agriculture
hybrid
1730~
Mar 23 (Thu)
Telecommunications Equipment
Web
1000~
Mar 23 (Thu)
Medical Equipment & Diagnostics
Off-site
1430~
Mar 31 ((Fri)
Automotive Components & Aftermarket
hybrid
1600~
If you are interested in joining a committee meeting, please contact the EBC to confirm the time and meeting place.
European Business Council JAPAN
Toranomon Hills Business Tower 15F, 1-17-1 Toranomon, Minato-ku, Tokyo 105-6415
105-6415 東京都港区虎ノ門1-17-1 虎ノ門ヒルズビジネスタワー15階
www.ebc-jp.com/