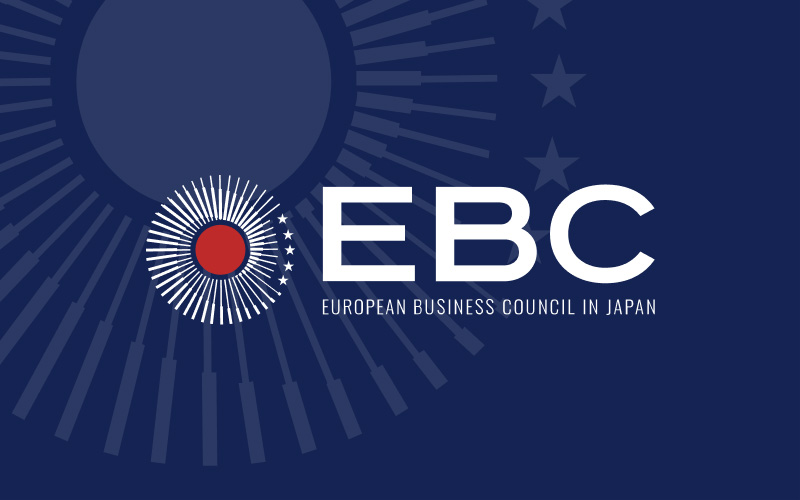 March 03, 2021

EBC Newsletter – March 3, 2021

Dear Friends of the EBC,

First of all, let me share with you some positive news from the EBC Intellectual Property Rights Committee: the long-standing issue of importation of counterfeits under personal use might come to an end. Counterfeits are illegal to import into Japan for so-called business use. However, with the expansion of e-commerce and B2C platforms, individuals can easily import small batches directly from overseas for personal use.

While it is difficult to remove the requirement "for business" in the Trademark Act, the focus could rather be on the overseas player and its relationship with the importer. For further details, read these two documents.

We would also like to draw your attention to four online events that will take place in the next two weeks:

Enjoy your reading!

We hope you stay positive and healthy during this difficult time.

Valerie Moschetti
EBC Chief Operating Officer

The IPR Committee would like to share with you the following two documents:

Our next online EBC Briefing on COVID-19 detection and vaccination will be held on 9 March 2021, 4:00-5:30pm JST.

Japan, while figures have been volatile, has seen fewer cases compared to other countries such as those in Europe. On the other hand, compared to Europe, Japan has been late to the party in terms of starting its vaccination programmes.

In this webinar, we will hear from two experts on both detection and vaccination of the COVID-19.

Mr. Shinichi Eda of Roche, member of the EBC Medical Equipment and Diagnostics Committee, will offer his expertise and insight into the detection of COVID-19 through PCR-testing and anti-gen testing.

We will also have Mr. Stefan Woxström, President of Astra Zeneca Japan, who will talk about the vaccine and vaccination. As we all know, Astra Zeneca has been at the centre of the development of one of the vaccines.

Registration and questions: [email protected]

International Women's Day is celebrated annually on 8 March to recognize the social, economic, cultural and political achievements of women – while also marking a call to action for accelerating gender equality.

To celebrate this global day together and raise awareness of the importance of gender equality in Japan, the Spanish Chamber of Commerce in Japan (SpCCJ) is hosting a panel discussion inviting both Japanese and Spanish female leaders from different industries: Amadeus, IKEA, Inditex and IE University. You will hear about their journeys, mindset and collective experiences across different sectors and countries.

Registrations at: https://www.cognitoforms.com/SpCCJ2021/WomenInBusiness
In the context of the 'EU Industry Days', the EU-Japan Centre for Industrial Cooperation will organise on 18 March (5:00 – 7:30pm, Tokyo time) an online event : "The EU and Japan – A new way forward – Industrial transition towards green and digital economy".

The EU and Japan have yet more to gain by working together to grow their economic relationship and by aligning their mutual interests to find a new way forward in the face of disruptions and challenges across economic and geopolitical spectrum. The event will be a platform to discuss industrial challenges and co-develop opportunities notably towards three types of cooperation (i) Regulatory cooperation and new standards, (ii) technological cooperation and industrial innovation, and (iii) EU-Japan Business cooperation in third markets, notably in Asia and Africa.

Beside the interventions of Commissioner Breton and Minister Kajiyama, speakers include the Chairs of Veolia Japan, Iwatani, Juwi Shizen, EBC, Digital Europe, Rakuten France, NEC, Business Europe, Le Groupe La Poste and Mitsubishi Electric. The EU Ambassador to Japan and the Ambassador of Japan to the EU will also intervene in the event.
To attract foreign firms, TMG is inviting internationally active Japanese companies, international companies, and influencers who are well-acquainted with Tokyo from inside and outside of Japan, and holding a large-scale online event called "UNLEASH TOKYO" to convey the attractiveness of Tokyo.

Through presentations and panel discussions by foreign companies that have succeeded in Tokyo, Japanese companies that actively collaborate with foreign companies, venture capital firms that invest in and support start-ups, and various guests will discuss the allure of Tokyo – not merely its market size, but also its business-related advantages, as well as its creativity and diversity.

Do not miss this great opportunity to experience the true attractiveness of Tokyo!
To register, go to the event's homepage.
Date
Committee
Time / Location
Mar 2 (Tuesday)
Liquor
Web
0830
Mar 18 (Thursday)
Medical Equipment & Diagnostics Committee
Off-site
1430-1700
Mar 19 (Friday)
Automotive Components & Aftermarket
EBC & Web
16:00~
Mar 25 (Thursday)
Human Resources
Web
09:00~
Mar 26 (Friday)
Railways
EBC & Web
16:00~
If you are interested in joining a committee meeting, please contact the EBC to confirm the time and meeting place.
The EBC published its annual document on the Japanese regulatory business environment last July.

This year's White Paper is called "Strengthening partnerships – in crisis and opportunity alike" . The opportunity is of course referring to the EU-Japan EPA that entered into force on February 1, 2019. Unfortunately, at the same time the COVID -19 crisis struck the world.

We are, however, confident that with our recommendations, the European and Japanese economies and companies will continue to prosper.
You can select among 6 categories of sponsorships. Depending on the category, the Sponsor will get:
Free Membership to the EBC and participation to all EBC sectoral committees;
His logo on the EBC website (homepage and/or dedicated sponsors' web page);
His logo/name in the EBC White Paper;
His company banner/information material/keynote speaker at the EBC Briefings;
His company name listed in EuroBiz Japan (EBC monthly magazine).
We can also adapt your sponsorship / membership to your budget.
If you are interested in supporting the EBC, please have a look at the new Sponsorships Scheme and contact us at: [email protected] for further details!
European Business Council JAPAN
Sanbancho POULA Bldg. 2F, 6-7 Sanbancho, Chiyoda-ku, Tokyo 102-0075
102-0075東京都千代田区三番町6-7三番町POULAビル2F
TEL
03-3263-6222
  |   FAX 03-3263-6223
www.ebc-jp.com/