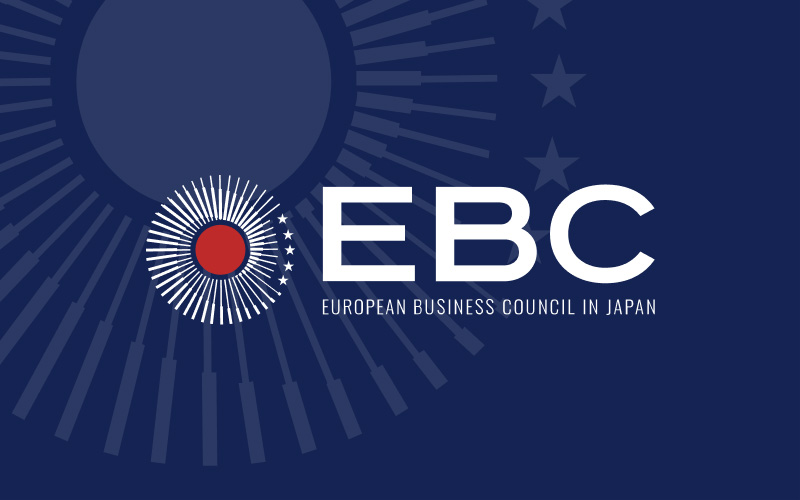 2021年2月17日

EBC ニュースレター 2021年2月17日
Dear Friends of the EBC,

The development and approval of multiple vaccines against Covid-19 took less than one year. As the first vaccinations are starting this week in Japan, I invite you to read the following EuroBiz article about the European and Japanese involvement in developing inoculations for Covid-19.

The EBC is also preparing an online briefing on COVID-19 Detection and Vaccination on 9 March 2021. Please save this date in your agenda, we will tell you more soon!

Prime Minister Suga, in his first policy speech at the Diet in October 2020, announced the Japanese Government's effort to initiate plans for "Strengthening Japan's functions as a global financial center". The EBC Asset Management Committee welcomes this measure in a letter published on 16 February 2021.

As a member of the European Business Organization Worldwide Network, we are glad to publish an invitation to the next European Chamber of Commerce in Korea's webinar on the United Nations Sustainable Development Goals (SDGs). It will focus on Leading Environmental, Social, and Governance (ESG) Strategies for the Energy Industry.

Enjoy your reading!

We hope you stay positive and healthy during this difficult time.

Valerie Moschetti
EBC Chief Operating Officer
One bright spot during the global pandemic has been the development and approval of multiple vaccines against Covid-19 — all in under a year. To put this in perspective, the average time it takes to create vaccines is 10 years. The Pfizer–BioNTech, AstraZeneca–Oxford, and Moderna vaccines, along with China's SinoVac and Russia's Sputnik, are already being administered. There are also dozens of other vaccines at trial stages around the world, including two from Japanese companies.
As you know, sustainability is high on the European Commission's agenda. In order to contribute to a better world, the ECCK will launch a free-of-charge webinar series on the United Nations Sustainable Development Goals (SDGs). The SDGs are not widely known and the motivation behind this series is to promote the SDGs and to make a considerable audience aware of their high importance. The SDG webinar series will feature presentation by captains of industry on their insights on SDGs (efforts undertaken, success stories what is planned, as well as existing challenges).

Webinar Outline
The first session of the SDG Webinar Series is scheduled for 24 February and, in order to enhance its impact, the series will run throughout 2021. Each session will last under an hour, including presentation and Q&A with the participants.

Partners
The ECCK is delighted that H.E. Ban Ki-moon, the eight Secretary-General of United Nations, supports this initiative, and they have received confirmation from global CEOs to share their companies' insights and effort to contribute to the SDGs. This initiative is supported by the European Business Organisation Worldwide Network (EBOWWN) and EuroCham Singapore.

Registrations can be made through https://ecck.or.kr/events/ecck-webinar-series-2021-sustainable-development-goals-with-baker-hughes
Date
Committee
Time / Location
Feb 18 (Thursday)
Medical Equipment & Diagnostics Committee
Off-site
1430-1700
Mar 2 (Tuesday)
Liquor
Web
0830
Mar 18 (Thursday)
Medical Equipment & Diagnostics Committee
Off-site
1430-1700
Mar 25 (Thursday)
Human Resources
Web
09:00~
Mar 26 (Friday)
Railways
EBC & Web
16:00~
If you are interested in joining a committee meeting, please contact the EBC to confirm the time and meeting place.
The EBC published its annual document on the Japanese regulatory business environment last July.

This year's White Paper is called "Strengthening partnerships – in crisis and opportunity alike" . The opportunity is of course referring to the EU-Japan EPA that entered into force on February 1, 2019. Unfortunately, at the same time the COVID -19 crisis struck the world.

We are, however, confident that with our recommendations, the European and Japanese economies and companies will continue to prosper.
You can select among 6 categories of sponsorships. Depending on the category, the Sponsor will get:
Free Membership to the EBC and participation to all EBC sectoral committees;
His logo on the EBC website (homepage and/or dedicated sponsors' web page);
His logo/name in the EBC White Paper;
His company banner/information material/keynote speaker at the EBC Briefings;
His company name listed in EuroBiz Japan (EBC monthly magazine).
We can also adapt your sponsorship / membership to your budget.
If you are interested in supporting the EBC, please have a look at the new Sponsorships Scheme and contact us at: [email protected] for further details!
European Business Council JAPAN
Sanbancho POULA Bldg. 2F, 6-7 Sanbancho, Chiyoda-ku, Tokyo 102-0075
102-0075東京都千代田区三番町6-7三番町POULAビル2F
TEL
03-3263-6222
| FAX 03-3263-6223
www.ebc-jp.com/