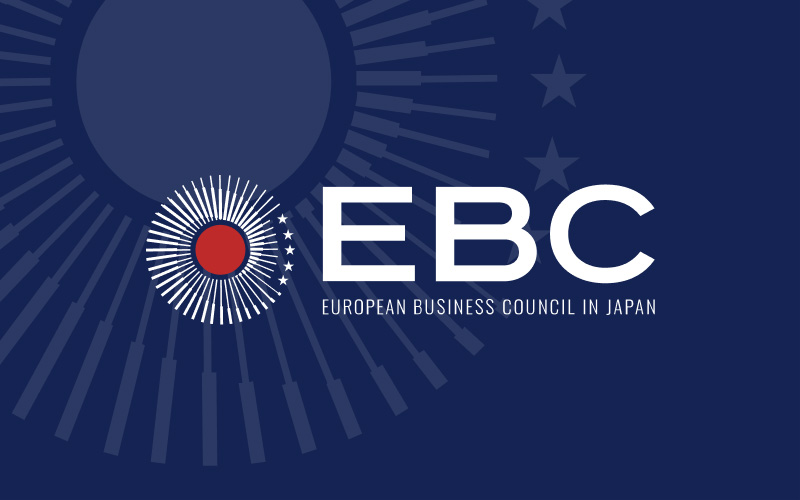 2021年4月07日

EBC ニュースレター 2021年4月7日
Dear Friends of the EBC,

Since February 2019, trade and cooperation between Japan and the EU have been boosted thanks to the EU-Japan Economic Partnership Agreement.

In April, two events in the ICT and Agri-Food sectors will be organised by the European Commission:

Foreign companies interested in the Japanese market will certainly learn from a webinar organised by the Japanese Ministry of Foreign Affairs on the Japanese Government Procurement Procedures and about the expected procurements for Fiscal Year 2021.

Finally, we are pleased to announce our new EBC late morning talk on Clubhouse every Monday at 11:00am. If you want to know more about the new chat platform, read this EuroBiz article!

Enjoy your reading!

We hope you stay positive and healthy during this difficult time.

Valerie Moschetti
EBC Chief Operating Officer
The Directorate General for Communications Networks, Content & Technology (DG CONNECT) of the European Commission is organising the 11th EU-Japan ICT Strategies Workshop together with the Japanese government on 15 and 16 April 2021 (16.00 – 19.00 Tokyo time) via videoconference.

The 11th Workshop will provide an excellent opportunity for European and Japanese industries and stakeholders to present their viewpoints to the European Commission and Japanese governmental authorities in charge of digital policy.

The following topics will be covered over the course of the two days:

On Day 1 (15 April, 16:00-19:00 Tokyo time): 5G and Beyond; Cyber Security; Smart Cities.
To Register, please click here.

On Day 2 (16 April, 16:00-19:00 Tokyo time): Platforms; Data; Artificial Intelligence.
To Register, please click here.
19 & 20 April from 14:00 to 18:00 JST

Registration will be open until 18 April 2021 (Sunday), 20:00 JST. The link to join this online seminar will be provided prior to the event.
If there's one app that seems to have been made for the coronavirus era, it's Clubhouse. The chat platform has been the perfect solution for millions of people staying close to home during the pandemic, but who still crave social interaction with those outside their restricted social spheres.

Continue to read the article.
Date
Committee
Time / Location
Apr 22 (Thursday)
Medical Equipment & Diagnostics Committee
Off-site
1430~
April 30 (Friday)
Railways
EBC & Web
1600~
May 12 (Wednesday)
Energy
EBC&Web
1330~~
May 20 (Thursday)
Medical Equipment & Diagnostics Committee
Off-site
1430~
If you are interested in joining a committee meeting, please contact the EBC to confirm the time and meeting place.
The EBC published its annual document on the Japanese regulatory business environment last July.

This year's White Paper is called "Strengthening partnerships – in crisis and opportunity alike" . The opportunity is of course referring to the EU-Japan EPA that entered into force on February 1, 2019. Unfortunately, at the same time the COVID -19 crisis struck the world.

We are, however, confident that with our recommendations, the European and Japanese economies and companies will continue to prosper.
You can select among 6 categories of sponsorships. Depending on the category, the Sponsor will get:
Free Membership to the EBC and participation to all EBC sectoral committees;
His logo on the EBC website (homepage and/or dedicated sponsors' web page);
His logo/name in the EBC White Paper;
His company banner/information material/keynote speaker at the EBC Briefings;
His company name listed in EuroBiz Japan (EBC monthly magazine).
We can also adapt your sponsorship / membership to your budget.
If you are interested in supporting the EBC, please have a look at the new Sponsorships Scheme and contact us at: [email protected] for further details!
European Business Council JAPAN
Sanbancho POULA Bldg. 2F, 6-7 Sanbancho, Chiyoda-ku, Tokyo 102-0075
102-0075東京都千代田区三番町6-7三番町POULAビル2F
TEL
03-3263-6222
| FAX 03-3263-6223
www.ebc-jp.com/