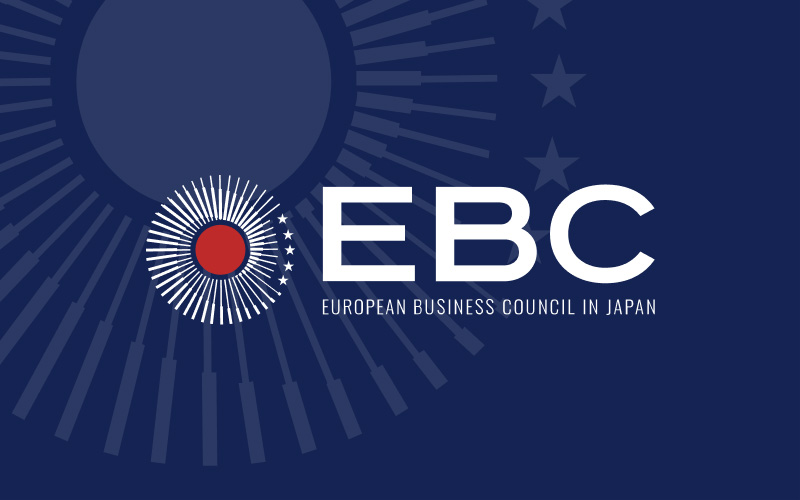 2021年6月16日

EBC ニュースレター 2021年6月16日

*|MC_PREVIEW_TEXT|*
Dear Friends of the EBC,

Japan's borders are still closed to most foreign non-residents. As you know, the EBC, together with the ACCJ, ANZCCJ and CCCJ, issued a Joint Statement on the travel restrictions of the Government of Japan. The four chambers are asking for more transparent rules and the easing of the entry restriction to Japan for foreign nationals. Furthermore, the Chambers also ask for recognition of overseas vaccination certificates.

The EBC will soon meet METI, MOFA and other high level government representatives. We just launched a flash survey on the impact of the entry ban on European companies and their Japanese partners, distributed to EU businesses through the 15 EU national Chambers of Commerce which are part of the EBC. It should provide data to feed our discussions with the Japanese authorities. If you want your voice to be heard, you are more than welcome to participate!

With COP 26 rescheduled from November 2020 to November 2021 in Glasgow, climate change, environment and green energies are on many conferences' agenda. Here are three events you should attend if you are interested in these issues:

Enjoy these events!

We hope you stay positive and healthy during this difficult time.

Valerie Moschetti
EBC Chief Operating Officer
EBC Flash Survey on the impact of the entry ban on European companies and their Japanese partners
The entry restrictions imposed by the Japanese government on foreign non-residents since January 2021 seem to have negative economic impacts on foreign and Japanese businesses and the economy in Japan.

The EBC has been actively advocating this issue through various meetings with the Japanese authorities and by publishing on May 28 a joint statement with the ACCJ, the ANZCCJ and the CCCJ.

To better evaluate the impact of the entry restrictions on European businesses and use the results for advocacy purposes, the EBC is launching a flash survey for members of the various national European Chambers. The more companies that take part in the survey, the more representative the results become, hence more useful. We therefore hope for your cooperation and support.

The survey is accessible through this link from June 15 to June 30.

Thank you in advance for filling it!
Towards carbon neutrality~Challenge of Japanese & EU industry and system (24 June)
The EU and Japan share an ambitious goal of 2050 carbon neutrality. To achieve this goal, industry needs innovation and business model transformation, and policy makers need policy and institutional leads to promote and support industry transformation. Through two sessions, (see the link) this webinar will identify common issues of industry and policy makers in both the EU and Japan and explore the possibility of cooperation between both region and country.
Zoom registration
Date & Time: 24 June 2021 (Thursday) 16: 00-18: 00 Tokyo
Languages used: English and Japanese (with simultaneous interpretation)
EU-Japan Online Conference on Trade & Industry towards Carbon Neutrality (30 June)
With the EU and Japan accelerating efforts to decarbonize and leading global action in this area, the EU-Japan Centre for Industrial Cooperation is organising a one-year cycle of free online events bringing together experts, business leaders and other stakeholders from both sides to share ideas and experiences and identify synergies and opportunities for joint action.
Join the next EU-Japan Online Conference on Trade & Industry towards Carbon Neutrality where 12 experts and business leaders will address:
Renewable energy: decarbonizing the economy at the source
Hydrogen: a new vector to store and distribute low-carbon energy
Transport: towards zero-emission mobility
Raw materials for decarbonized economies
Speakers will include representatives from the European Commission (DGs GROW, TRADE and CLIMA), the Ministry of Economy, Trade & Industry of Japan, BloombergNEF, Kansai Electric Power Co., Enel Green Power, Hydrogen Europe, Japan Hydrogen Association, McKinsey & Company, OECD, Umicore and Sojitz Corporation.
Date: Wednesday 30 June |16:00-18:30 JST
Language: English and Japanese with simultaneous interpretation
Detailed agenda and registration
You can find recordings and summaries of past SPIPA sessions on our dedicated website. Previous events have addressed green hydrogen; offshore wind energy; a round table discussion on going beyond the Kyoto Protocol and Paris Agreement; and raising the ambition for climate.
Road to Carbon Neutrality: Renewable Energies and Energy Storage (13 July)
Japan has vowed to reach carbon neutrality by 2050. This requires investing in renewable energy, but the large adoption of intermittent renewable energy sources such as solar and wind will also require investment in energy storage. Both batteries and hydrogen are potential solutions for storage.
During this webinar, 3 BLCCJ member companies will give presentations: TotalEnergies, Umicore and Solvay.
The first speaker will be Philip Olivier, Country Chair at TotalEnergies International S.A. Japan Branch. He will present us the investments TotalEnergies has made in renewable energies and the challenges to increase the share of renewable energies in the electricity mix.
Umicore is already well-known as a precious metal recycler but they are committing to battery recycling as well. Second speaker Fabrice Stassin, Director of Government Affairs Electromobility Projects at Umicore Belgium, will give the presentation "Innovating towards sustainable batteries made in Europe".
Third speaker will be Kazumasa Imoto, President of Solvay Japan and BLCCJ Board Member. He will shed a light on the green hydrogen activity of Solvay.
Afterwards the 3 speakers will gladly take your questions.
Date: Tuesday 13 July | 17:00-18:00 Japan time
Presentations + Q&A in English
Free of charge for BLCCJ/BJA/EBC members
If you are interested, please send an email to [email protected] by 13 July noon JST and we will confirm your registration.
This webinar will be conducted via Zoom. If your registration is accepted, you will receive an email with a Zoom invitation link and passcode on the day itself.
Date
Committee
Time / Location
June 17 (Thursday)
Insurance
Web
0730~
June 24 (Thursday)
Medical Equipment & Diagnostics Committee
Off-site
1430~
June 25 (Friday)
Railways
EBC & Web
1600~
July 15 (Thursday)
Medical Equipment & Diagnostics Committee
Off-site
1430~
July 22 (Thursday)
Human Resources
Web
0900~
If you are interested in joining a committee meeting, please contact the EBC to confirm the time and meeting place.
The EBC published its annual document on the Japanese regulatory business environment last July.

This year's White Paper is called "Strengthening partnerships – in crisis and opportunity alike" . The opportunity is of course referring to the EU-Japan EPA that entered into force on February 1, 2019. Unfortunately, at the same time the COVID -19 crisis struck the world.

We are, however, confident that with our recommendations, the European and Japanese economies and companies will continue to prosper.
European Business Council JAPAN
Sanbancho POULA Bldg. 2F, 6-7 Sanbancho, Chiyoda-ku, Tokyo 102-0075
102-0075東京都千代田区三番町6-7三番町POULAビル2F
TEL
03-3263-6222
| FAX 03-3263-6223
www.ebc-jp.com/
• This email has been sent from a send-only address. Please do not reply to this email.
• If you would like to change your registered e-mail address, please click here.
• Please click here to unsubscribe.