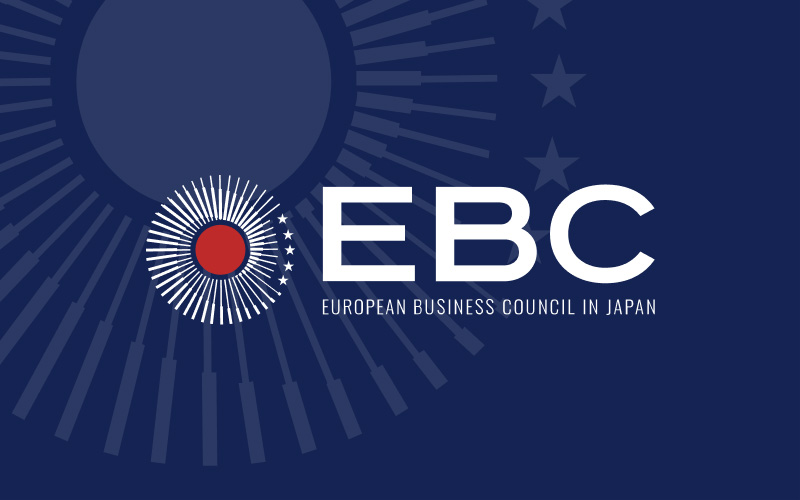 2021年9月08日

EBC ニュースレター 2021年9月8日
Dear Friends of the EBC,

On 6 September, the Keidanren suggested measures to revitalise socio-economic activities in Japan. Among them, the reduction in the quarantine period from 14 days to a maximum of 10 days for all persons entering Japan, regardless of whether they have been vaccinated or not, and the exemption from quarantine for people who have been vaccinated against Covid-19.

Yesterday, the EBC published a statement to support this initiative, as several foreign businesses are still suffering from the entry restrictions – that also impact the Japanese economy – as mentioned in this EuroBiz article. We continue to advocate for an opening of the borders in compliance with the appropriate Japanese sanitary measures and hope that European companies will be able to fully enjoy very soon the benefits of the Europe-Japan Free Trade Agreement under the best conditions.

Finally, let me remind you of 2 online events:
Leveraging Green Towards a Profitable and Sustainable Business – Managing Assets with ESG in Japan and Luxembourg (7 October), organised by the Belgian-Luxembourg Chamber of Commerce in Japan
The Japan-Central Europe Investment Summit & Awards (9 September)
We hope you stay positive and healthy during this difficult time.Valerie Moschetti
EBC Chief Operating Officer
EBC and Keidanren united for the recognition of vaccination certificate
The European Business Council in Japan (EBC) fully supports the recent statement by the Japan Business Federation (Keidanren).

The EBC too believes that vaccinated people should be exempted from quarantine. We believe this would still be safe under the current health protocols as returnees are tested once before departing to Japan and again when entering Japan.

To read the complete statement, please click on the link.
Results of a flash survey on the impact of
Japan's entry ban
The entry restrictions imposed by the Japanese government on foreign non-residents since January 2021 have had a negative economic impact not only on foreign business, but also Japanese businesses and the economy in Japan.
Leveraging Green Towards a Profitable and Sustainable Business – Managing Assets with ESG in Japan and Luxembourg (7 October)
The BLCCJ, together with the Luxembourg Embassy and Luxembourg Trade and Investment Office Tokyo, are honored to invite you to the following webinar with FinCity.Tokyo Chairman Hiroshi Nakaso and LuxFLAG Chairwoman Denise Voss:
As Japan's Prime Minister announced ambitious targets of carbon neutrality by 2050 and a 46% reduction of the country's carbon footprint by 2030, corporate Japan has stepped up its active stance in Environmental, Social and Governance (ESG) matters to catch up with their peers in Europe and the United States. Beyond the obvious reasons of social responsibility, companies across the world realize the positive financial outcomes of ESG investing: efforts in sustainability lead to actual business success and there is growing evidence that ESG-themed strategies boost returns.
But how can one invest profitably in Green and ESG-conscious companies?
After a welcome by H.E. Luxembourg Ambassador Pierre Ferring, the first speaker, Mr. Hiroshi NAKASO, Chairman of FinCity.Tokyo and formerly Deputy Governor of the Bank of Japan, will present how Japan emphasizes asset management and the introduction of innovative strategies to make Tokyo a leading global financial city, and moreover how ESG fits in this picture.
The second speaker Ms. Denise VOSS, Chairwoman of LuxFLAG, the Luxembourg Finance Labelling Agency, will share the agency's definition of Green and ESG, the approach/criteria to label ESG funds, how this labeling contributes to the growth of Luxembourg companies, and how Green in general can be profitable for your business.
Afterwards the speakers will gladly take your questions.
EVENT DETAILS
Thursday 7 October
16:00-17:00 Japan time
Presentations + Q&A in English
Free of charge for EBC members
If you are interested, please send an email to [email protected] by 7 October.
Japan-Central Europe Investment Awards (9 September)
Format: During Main Stage Presentation, the guests can choose to join industry-focused RoundTable discussions and meet and interact with key players in those sectors.
Each Main Stage Presentation is followed by a Roundtable on the same subject, giving guests the opportunity to meet and interact with each other, and with the Speakers and Panelists just after their Presentation.
Please visit this address for further details.
Date
Committee
Time / Location
Sep 16 (Thursday)
Telecommunications Equipment
Web
1000~
Sep 16 (Thursday)
Medical Equipment & Diagnostics Committee
Off-site
1430~
Sep 24 (Friday)
Railways
EBC & Web
1600~
Sep 30 (Thursday)
Human Resources
Web
0900~
Oct 21 (Thursday)
Medical Equipment & Diagnostics Committee
Off-site
1430~
Oct 29 (Friday)
Railways
EBC & Web
1600~
If you are interested in joining a committee meeting, please contact the EBC to confirm the time and meeting place.
The EBC published its annual document on the Japanese regulatory business environment last July.

This year's White Paper is called "Strengthening partnerships – in crisis and opportunity alike" . The opportunity is of course referring to the EU-Japan EPA that entered into force on February 1, 2019. Unfortunately, at the same time the COVID -19 crisis struck the world.

We are, however, confident that with our recommendations, the European and Japanese economies and companies will continue to prosper.
European Business Council JAPAN
Sanbancho POULA Bldg. 2F, 6-7 Sanbancho, Chiyoda-ku, Tokyo 102-0075
102-0075東京都千代田区三番町6-7三番町POULAビル2F
TEL
03-3263-6222
| FAX 03-3263-6223
www.ebc-jp.com/
• This email has been sent from a send-only address. Please do not reply to this email.
• If you would like to change your registered e-mail address, please click here.
• Please click here to unsubscribe.