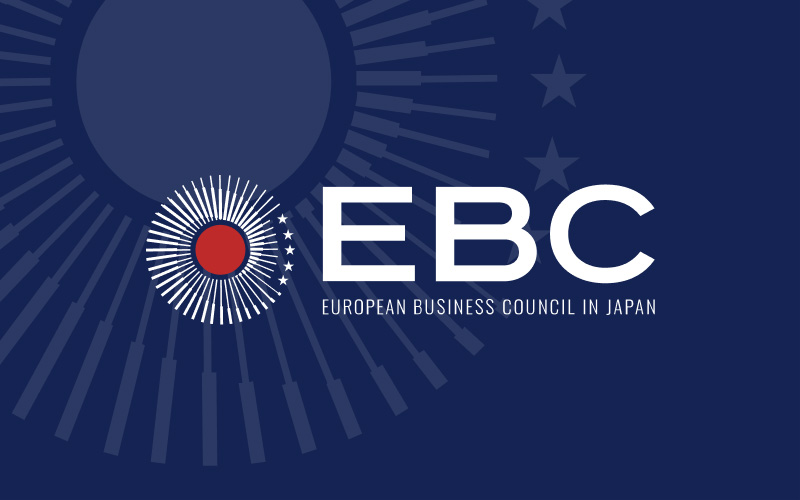 December 23, 2020

EBC Newsletter – December 23, 2020
Dear Friends of the EBC,

In 2020, the COVID-19 crisis paralyzed many countries and highlighted flaws in globalization. In Japan, the pandemic has, so far, been well contained and the government plan to bail out the economy is generous. However, the re(-entry) ban to Japan for foreign residents between early April and late August stressed differences in the treatment between Japanese nationals and non-Japanese residents. In addition to personal problems, it caused important economic concerns for both foreign and Japanese companies.

The EBC has been very dynamic in relaying European business concerns to the Japanese government through high level meetings, webinars, surveys (Survey conducted by the EBC; Updated Survey on the impact of the (re-)entry ban to Japan on European businesses), press conferences ("Relaxing Entry Bans in Japan and Europe"; European industry in Japan heavily affected by the (re-)entry ban on non-Japanese citizens), interviews, and Statements, sometimes in cooperation with other Chambers (Urgent Fiscal Countermeasures to Combat Economic Impact of COVID-19;  Joint statement on air transport of critical medicines and supplies; Statement on The Travel Restrictions; Foreign Chambers Urge Prime Minister Suga to Engage with Foreign National Residents of Japan ). We remain active in monitoring the situation and you can contact us if you still encounter any problem.

As you know, the main mission of the EBC is to advocate and to lobby for its members and its stakeholders, the European National Chambers of Commerce in Japan.

In today's Newsletter, we give you the opportunity to better understand the activity of our Sustainability and Social Responsibility Committee. It brings EBC members together in efforts regarding Corporate Social Responsibility (CSR), Sustainable Development Goals (SDGs), Environment Social and Governance (ESG) and overall sustainability. Members can share information, exchange best practices, and meet high level Japanese contacts.
If your company is interested in a membership, you are most welcome to contact the EBC!

The EBC Team wishes you a Happy Holiday season!

We hope you stay positive and healthy during this difficult time,
See you in 2021!

Valerie Moschetti
EBC Chief Operating Officer
This week, we give you the opportunity to better understand the activity of our Sustainability and Social Responsibility Committee. It brings EBC members together in efforts regarding Corporate Social Responsibility (CSR), Sustainable Development Goals (SDGs), Environment Social and Governance (ESG) and overall sustainability. Members can share information, exchange best practices, and meet high level Japanese contacts.

During our last meeting, Stefan Le Du, Project manager, EU-Japan Cooperation for Climate at the EU-Japan Centre for Industrial Cooperation, shared a presentation on Climate situation and policies in Europe and Japan and how the Centre is strengthening EU-Japan economic cooperation for climate:
Activities of the EU-Japan Centre to support EU-Japan cooperation for climate

If your company is interested in attending these Committee meetings, you are most welcome to contact the EBC!
The EBC published its annual document on the Japanese regulatory business environment last July.

This year's White Paper is called "Strengthening partnerships – in crisis and opportunity alike" . The opportunity is of course referring to the EU-Japan EPA that entered into force on February 1, 2019. Unfortunately, at the same time the COVID -19 crisis struck the world.

We are, however, confident that with our recommendations, the European and Japanese economies and companies will continue to prosper.
European Business Council JAPAN
Sanbancho POULA Bldg. 2F, 6-7 Sanbancho, Chiyoda-ku, Tokyo 102-0075
102-0075東京都千代田区三番町6-7三番町POULAビル2F
TEL
03-3263-6222
  |   FAX 03-3263-6223
www.ebc-jp.com/