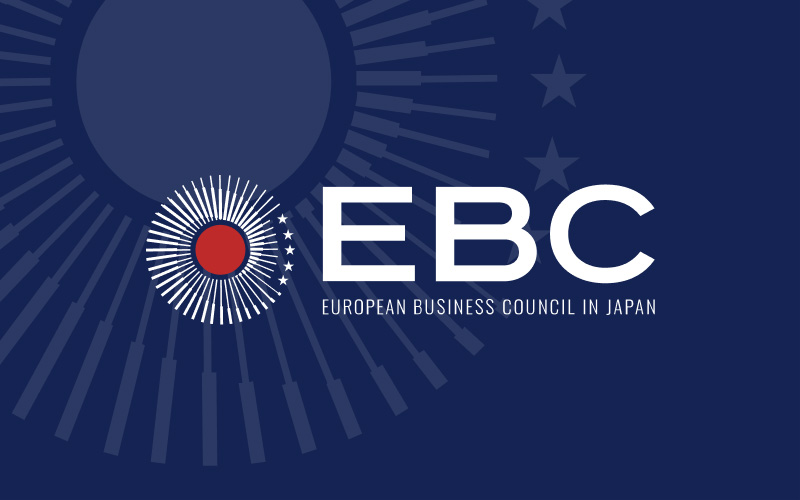 2022年3月30日

EBC ニュースレター 2022年3月30日

The European Commission is launching a survey on testing and certification barriers in EU export markets. The mutual recognition agreements we have with our closest trading partners, including the one between the EU and Japan, have generated export gains and are very valuable for key exporting industries. But times, technologies and regulatory requirements change. Help us identify the conformity assessment challenges faced by EU industry in Japan through the survey below. The questionnaire is anonymous and will be available online until

3 April 2022.

13th EU-Japan ICT Strategies Workshop (8 April, 15:30-19:00) organised by the EU Delegation in Japan

The event will provide an opportunity for European and Japanese industry and stakeholders to learn about recent ICT policy developments, to contribute opinions and comments regarding the forthcoming EU-Japan Digital Partnership Agreement, and to present viewpoints on public policy issues to public authorities in charge of digital policy in the EU and in Japan.

Please register at this link.
Green x Digital – Opportunities for EU-Japan Industrial Cooperation – Joint Webinar organised by The Japan Electronics and Information Technology Industries Association (JEITA) and the EU-Japan Center for Industrial Cooperation (EUJC) (6 April, 16:30-18:15)

The EU and Japan share a common goal of carbon neutrality. It is pointed out that digital transformation plays an important role in order to achieve this goal of green transformation. In October 2021, JEITA established the Green x Digital Consortium, which consists of a wide range of industries, to promote the development of a business environment for economic growth through Green x Digital. The consortium aims for related industries in Japan to drive the global green market through initiatives such as digitalization of environment-related fields and creation of new business models.

In the EU, there is a growing recognition in the public and private sectors that the green and digital "Twin Transition" is necessary to achieve the climate goals while keeping industrial competitiveness. In this seminar, five speakers from both Japan and Europe are invited to compare and share public and private sector initiatives in both Europe and Japan, and explore opportunities for EU-Japan cooperation.

1. Date and time: Wednesday 6 April 2022, 16:30-18:15
2. Languages: English and Japanese (with simultaneous interpretation)
3. Program
4. Participation fee: Free of Charge
5. Registration: Please click the ZOOM link to register for participation.
Date
Committee
Time / Location
April 15 (Fri)
Automotive Components & Aftermarket
Web
1700~
April 21
Human Resources
Web
0930~
Apr 21 (Thu)
Medical Equipment & Diagnostics Committee
Off-site
1430~
Apr 22 (Fri)
Railways
EBC & Web
1600~
May 11 (Wed)
Energy
EBC&Web
1330~
May 20 (Fri)
Automotive Components & Aftermarket
EBC&Web
1600~
May 20 (Fri)
Railways
EBC & Web
1600~
Mary 26 (Thu)
Legal Services
Web
09:00~
May 26 (Thu)
Human Resources
Web
0930~
May 26 (Thu)
Medical Equipment & Diagnostics Committee
Off-site
1430~
If you are interested in joining a committee meeting, please contact the EBC to confirm the time and meeting place.
European Business Council JAPAN
Toranomon Hills Business Tower 15F, 1-17-1 Toranomon, Minato-ku, Tokyo 105-6415
105-6415 東京都港区虎ノ門1-17-1 虎ノ門ヒルズビジネスタワー15階
www.ebc-jp.com/