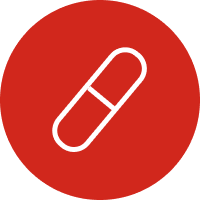 Although overall healthcare costs in Japan are rising with the aging population, statistics show that total pharmaceutical market has been well under control with the various pricing systems introduced in the recent years.
Pharmaceutical market: Japan's healthcare spending in fiscal year 2019 increased by 2.3% (0.99 trillion yen) to 44.4 trillion yen. Medical cost per capita is 351,800 yen which is an increase of 2.5% compared to the previous year. Although the pharmaceutical market size reported by Ministry of Health, Labour and Welfare has not been publicly available since 2017 data, after the drastic pricing system reform in 2018, price revision in relation to the consumption tax increase on October 2019 was conducted on all products as well as the first off-year price revision was conducted in fiscal year 2021. As such, drug price revision has technically been conducted every year since 2018. A reduction of 600 billion yen (healthcare cost basis) was made in the price revision of 2022. 
Drug pricing system reform: "Basic policy for drastic reform of drug pricing system" announced in December 2016, stated that drastic reform of drug pricing system will be conducted to simultaneously achieve "sustainability of universal health coverage" and "promotion of innovation" and to realise "reduction of public burden of healthcare cost" and "improvement of medical quality". However, recently conducted drug pricing system reform have been heavily focused on "reduction of public burden of healthcare cost" with insufficient improvement on the system from the perspective of "promotion of innovation". With the series of reform, including the off-year price revision conducted in April 2021, predictability of drug price and pharmaceutical business in Japan has been significantly damaged, as well as the attractiveness of the Japanese pharmaceutical market as an investment country for the development of innovative new drugs has substantially declined.
Off-year price revision: First off-year price revision was conducted in April 2021. However, subject products of the off-year price revision significantly deviated from the "Basic policy for drastic reform of drug pricing system", discussions at Central Social Insurance Medical Council (Chuikyo) and "Honebuto Policy 2020" etc., where products that exceeded the average deviation rate by 0.625 times became subject to the off-year price revision. As a result, approximately 60% of new drugs under patent and approximately 40% of products subject to Price Maintenance Premium became subject to price revision and as a result predictability of pricing system has been significantly damaged. 
14 day prescription limitation for new drugs: For the first 12 months after a drug is price listed, prescription is limited to a maximum of 14 days, restricting the use of many new drugs. Although the purpose is to encourage frequent consultation to secure safety, Japan has robust safety measures such as Post Marketing Surveillance as well as implementation of Risk Management Plan. Additionally, with the spread of online consultations, consultations are no longer limited to face-to-face and frequent consultation can be encouraged even without the prescription limitation. This 14-day rule for new drugs is outdated and preventing patients from accessing new drugs that they need. 
Introduction of CEA/HTA (Cost-Effectiveness Analysis/Health Technology Assessment): Full-scale implementation of HTA using CEA has been introduced since 2019, however a lot of issues still exist, such as clinical positioning and value of the drug not fully being reflected from a scientific valid perspective as well as securing transparency by making the information public available to enable third parties to verify the system afterwards. The European experience shows that CEA/HTA can become a barrier preventing patient access to medicines and be a major administrative burden for academia, government and industry. As Japan has sufficient measures to control drug expenditures, CEA/HTA should not be become a cost-containment measure. As Europe faces many challenges, implementation of CEA/HTA should be limited. 
Introduction of new regulatory system: "Sakigake designation system (name changed to Senkuteki Iyakuhin system)" and "Conditional early approval system", which had been implemented on a notification base, became legislated with newly established "Specific use drugs", and these amendments were implemented on Sep 1st, 2020. The scope of Mutual Recognition Agreement was extended to include the product such as active pharmaceutical ingredients, sterile formulation, and biological medicines in July 2018. In addition, each manufacturing site will be targeted for GMP (Good Manufacturing Practice) compliance inspection according to the Amended Pharmaceuticals and Medical Devices Act (promulgated on Dec. 4, 2019). The full implementation of the mutual recognition of GMP between Japan and Europe should be ensured and the adjustment for global harmonisation of GMP future inspection is required.
READ MORE
Key issues and recommendations
Chairman
Mr. Takahiko Iwaya
EFPIA Japan
(President and Representative Director, Sanofi K.K.)
EFPIA Office:
Tokyo Opera City Tower, 3-20-2
Nishi-Shinjuku, Shinjuku-ku, Tokyo 163-1488
Phone: 03-6301-4094
EBC Medical Equipment and Diagnostics Committee Secretariat contact:
E-mail:  EBC-MDX@ebc-jp.com
Members
Alexion Pharma
AstraZeneca
Bayer Yakuhin
Bracco-Eisai
Chugai Pharmaceutical
CSL Behring
Ferring Pharmaceuticals
GE Healthcare Japan
Genmab
GlaxoSmithKline
Guerbet Japan
Idorsia Pharmaceuticals
Ipsen Pharma Japan
Janssen Pharmaceutical
LEO Pharma
Lundbeck Japan
Merck Biopharma
Nihon Servier
Nippon Boehringer Ingelheim
Novartis Pharma
Novo Nordisk Pharma
Sanofi
UCB Japan