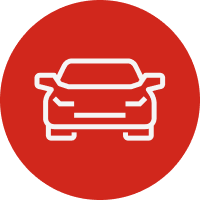 Looking back at the motor vehicle market of Japan in 2021, new vehicle sales (registered vehicles and kei cars) were 4,448,340 units (down 3.3% from the previous year).
For the foreign-brand 4-wheelers, mainly European brands, the number of units sold increased year-on-year for six consecutive months from March to August; however, beginning in September, sales were negative compared to the same month of the previous year due to the impact of declining automobile production caused by the global semiconductor shortage and slowing in parts supply stemming from the pandemic. Even though orders were steady, the vehicles could not be supplied, so this had a major impact on the number of new vehicles that were registered. As a result, sales were up 1.4% from the year before to 259,752 units.
Meanwhile, EBC Automobile committee member companies expanded their line-ups of electric vehicles, and sales of BEVs and PHEVs increased sharply. BEVs of foreign brands in particular increased by about 2.7 times over the previous year to 8,610 units for the full year, as sales volume steadily increased. Imported vehicles including those from Japanese automakers also increased, by 8.4% year on year to 344,552 units.
Sales of foreign-brand vehicles in the first half of 2022 continued to be adversely impacted by the disruption of distribution caused by Ukraine crisis and the semiconductor shortages, and although orders were steady, due to delays in deliveries, sales were down 14.7% to 116,408 units. The figure for the total imported vehicles including Japanese brands was down 17.6% year on year to 153,954 units.
On the other hand, thanks to  member companies expanding their line-ups of electrified vehicles, 62 models from 14 foreign brands are introduced in the market as of the first half of 2022. For BEVs in particular, the number of vehicles sold has increased steadily and the result for 2022 1H was up 58.8 percent from a year earlier to 5,192 units. In such turbulent market conditions, the EBC Automobile Committee member companies will continue introducing new models equipped with advanced safety and environmental technologies, in addition to launching BEV and PHEV models at an accelerated pace.
When compared with other key G7 countries, currently the installation of the infrastructure that is needed for the sales and spread of EVs has not progressed. From such a point of view, the government of Japan will be called on to continue and upgrade tax incentives and subsidies as integrated and stable supportive measures for vehicles and infrastructure to ensure further spread of BEVs and PHEVs.
For the auto-related tax system, in Japan, major revisions of the tax system based on the FY 2030 Fuel Efficiency Standards were made in FY 2021, requiring the introduction of products having greater fuel efficiency performance to be able to benefit from preferential tax treatments. FCEVs, BEVs and PHEVs that have been defined as next-generation vehicles continue to enjoy maximum tax exemption and tax cuts as in the past.
For the next year's taxation, we will request the maximum-level exemptions and tax breaks for those models.
Further, the auto-related taxes in this country are more complex and heavier than those in other countries, and we intend to continue requesting to ease the burdens on car users.
In addition, it will also become increasingly important to study the deregulation for technologies related to electrification (including issues related to charging voltage) and solve various issues related to battery recycling, while referring to the systems adopted in other countries.
The EBC Automobile Committee has decided to solve various issues related to the voltage restrictions, etc., related to Electricity Business Act which are unique to Japan, while keeping in mind the moves in other countries and in coordination with the other organizations concerned, etc. In addition, while keeping in mind trends in other countries (e.g. European battery regulation proposals) such as the reuse and recycling of batteries, which are indispensable for the promotion of electrification, we will work with relevant ministries and agencies to find proper ways to improve the sustainability of batteries throughout their life cycle.
In addition, to be able to address legal schemes for connectivity technologies, which are related to automated driving and which, recently, are becoming more important than ever, we intend to expand the ongoing scope of activities to grasp developments related to the telecom equipment installed inside and out of vehicles and the communication infrastructure for social implementation that is expected of automated driving. With them, we would like to call on the government to promote, among others, international harmonization of schemes as necessary. Furthermore, in order to ensure the safety of advanced vehicles such as self-driving cars, such regulations as those for "cyber security (CS)" and "software update (SU)" of in-vehicle systems are also important. The EBC Automobile Committee will continue requesting that the various laws and regulations for automated driving and others will be harmonized with international regulations in line with the discussions made at the World Forum for Harmonization of Vehicle Regulations (WP29).
With regard to the issues of safety and regulatory harmonization, the EBC Automobile Committee has continued carrying out activities while taking the complete elimination of NTM and the realization of "complete IWVTA (International Whole Vehicle Type Approval)" as one of the most important issues. Three years have passed since the Japan-EU Economic Partnership Agreement (EPA) went into force in February 2019. The EBC Automobile Committee will continue reviewing the status of implementation together with the other parties concerned. Furthermore, there still are some Non-tariff measures (NTM), such as Japan-unique regulations that remained pending in the process of reaching an agreement on the EPA, which remain to serve as business risks for the importers of both passenger cars and CVs and a factor of additional cost. The EBC Automobile Committee, calling for international harmonization of regulations and standards, will continue requesting the complete elimination of NTM and the realization of complete IWVTA.
In addition, recently in Japan's auto industry, the lack of auto mechanics has become an urgent issue. It is also essential to develop human resources for automobile maintenance who can handle new technologies accompanying the further spread of xEVs. The EBC Automobile Committee will start working on solving the issue and requests the government and others to improve conditions for overcoming the issue of mechanics shortages. 
The EBC Automobile Committee will continue supporting the goals of the EU and Japan to realize markets that are truly fair and open.
READ MORE
Key issues and recommendations
Chairman
Mr. Kintaro Ueno
President and CEO
Mercedes-Benz Japan Co., Ltd.
Shinagawa Seaside Park Tower
4-12-4 Higashi Shinagawa
Shinagawa-ku, Tokyo 140-0002
Tel: +81-3-6369-7200
Upcoming committee meeting schedule
Please contact the EBC ([email protected]) to confirm the meeting location prior to attending