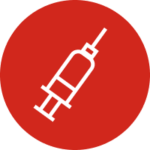 Rotavirus vaccination was launched in October 2020 as the National Immunization Program (NIP). However, Mumps vaccine remains voluntary. Other existing gaps include MMR vaccine (mumps, measles and rubella) and the 5- or 6-in-1 combination vaccine (where hepatitis B and/or Hib vaccines are added to the 4-in-1 DTaP-IPV-diphtheria, tetanus, pertussis and inactivated polio) are still not available in Japan. EFPIA Vaccine Working Team continues to work to reduce regulatory and policy-related barriers for early adoption of combination vaccines as well as strongly promote "Life Course Immunization (Prevent all vaccine-preventable diseases from infants to the elderly)".
In 2020, due to the global COVID-19 pandemic, all administrative resources were invested for the COVID-19 countermeasure, and all the work was suspended such as NIP review and discussion between industry groups and MHLW. On the other hand, the importance of vaccines has become widely recognized by the general public and with the delay of the COVID-19 vaccine development in Japan, discussions on the current vaccine development and production system and the ideal industrial structure have become active, and the government has begun to consider future solutions.
In this discussion, politicians mentioned that it is necessary to involve global companies "playing" in Japan from the perspective of "All Japan" instead of "Only Japan" to rebuild the vaccine industry in Japan.
As in our statement issued in September 2020, "Proposal of vaccination system under COVID-19 pandemic", to promote this movement, EFPIA Japan will work with other industry groups to reach out to national stakeholders and authorities to re-building the vaccine industry.
EFPIA Vaccine Working Team continues to hold seminars and discussions with stakeholders to improve the environment for vaccination. As one of these activities, in September 2020, with the participation of many stakeholders such as academia, government, and the media, we held the EFPIA Vaccine Webinar with the theme of "Life course vaccination should now be considered in the COVID-19 pandemic". Amid growing public awareness of infectious disease prevention, vaccinations for the elderly, such as seasonal Flu vaccine and Pneumococcal polysaccharide vaccine (PPSV23), were administered more than usual years. It is becoming increasingly important for physicians and recipients to communicate adequately so that they can deepen their understanding on vaccines and receive vaccine with confidence. In addition to the public's understanding of infection control measures in medical institutions, key stakeholders in vaccination have suggested the need for guidance to physicians to lead mutual communication with recipients which EFPIA has agreed to fully support this development.
As COVID-19 countermeasures were the utmost priority, discussions on NIP type A and B etc., has not been started, however, MHLW has a strong desire to optimize NIP vaccine price and transparency of pricing process as the next theme to discuss with the four industry groups, where each industry group has started its preparing. EFPIA, together with PhRMA, will gather opinions on the pricing process from the perspective of a global company. It is important to recognize that vaccination is a different market compared to therapeutics, and that pricing is paramount to elicit vaccine innovation. Pricing needs to be transparent and the company will focus on building processes that will not discourage corporate investment.
READ MORE
Key issues and recommendations
Published:
Chairman
Mr. Shinji Matsumoto
Vaccine Working Team, EFPIA Japan
(Senior Expert, Janssen K.K.)
c/o Janssen K.K.
3-5-2 Nishikanda, Chiyoda-ku, Tokyo 101-0065
Phone 03-4411-7700
EBC Medical Equipment and Diagnostics Committee Secretariat contact:
E-mail:  EBC-MDX@ebc-jp.com
Members
AstraZeneca
Bayer Yakuhin
Bracco-Eisai
Janssen Pharmaceutical
LEO Pharma
Lundbeck Japan
Merck Biopharma
Nihon Servier
ChugaiPharmaceutical
CSL Behring
Ferring Pharmaceuticals
GE Healthcare Japan
Genmab
GlaxoSmithKline
Guerbet Japan
Ipsen Pharma Japan
Nippon Boehringer Ingelheim
Novartis Pharma
Novo Nordisk Pharma
Sanofi
UCB Japan