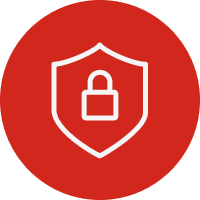 Defence & Security
In recent years, the security environment impacting Japan is looking bleaker. Security challenges and issues in the region, including threats related to Cybersecurity, which Japan has been facing, are becoming more and more complex and diverse. There have been an increasing number of cases of unilateral actions in an attempt to change the status quo by enforcement without respecting the existing international law. This situation is frequently highlighted by senior officials of the Ministry of Defense.
The emergence of state expansionism and increased uncertainly in certain parts of the world including the east Asian region combined with shift in US foreign policy observed the last few years to focus more on the US mainland have changed the security environment for Japan. Furthermore, the terrorist threat and asymmetric warfare are growing in gravity, while the importance of the new security domains such as Cyber and Space are rapidly emerging in addition to the traditional domains of Land, Sea and Air. Thus, national security can no longer be addressed and understood only from a traditional geopolitical perspective and are difficult to be solved by individual countries.
Under the circumstances, while keeping Japan-US alliance as the fundamental and the crucial part of Japanese national security strategy, Japan is facing an increasing need for international cooperation and is trying to position itself within a broader global security relationship with its focus on enhancing the bilateral defence cooperation. Specifically, Japan has enhanced bilateral defence relationships from traditional exchanges to deeper cooperation in a phased manner by appropriately combining various means including joint exercises and capacity building assistance, defence equipment and technology cooperation. Joint exercices between Japan and EU or between Japan and some Member States in the Indo-Pacific area reflect a shared vision for maintaining the rules-based international order. At the same time promotes maritime security in the region, protects the world's maritime domain from all traditional as well as non-traditional threats and enhances prosperity through peaceful and stable oceans.
In terms of the defence equipment and technology collaboration, Europe has been playing a very important role as Japan's one of the closest and oldest allies that shares universal values and playing a central role in working to address common challenges to global security. While remaining the main partner for Japan, the US cannot necessarily support Japan in all situations and stronger relationships with Europe in defense should positively contribute to cope with regional expansionism threats as additional deterrent. Closer cooperation with Europe in the defense field could also induce new opportunities in public procurement and foster collaboration between industries.
In this regard, the progress has been remarkable. The Japanese Government is committed in developing its defense relations with European countries and has concluded a number of different bilateral agreements on defence equipment collaboration such as with France in 2015, Germany and Italy in 2017, on top of agreements signed with non EU members such as the United Kingdom (2013), Australia (2014), India (2015), Malaysia (2018) and Indonesia (2021).
Further discussions towards bilateral agreements with other European countries such as the Netherlands, Spain and Sweden are still underway. Moreover, European companies are being approached by Japanese companies looking to collaborating in third-country markets third-country prospects, such as in the ASEAN countries. However, despite the existence of these bilateral agreements, it has to be noted that only few cooperation projects have been identified and are currently in progress.
The EBC welcomes this trend of enhancing the bilateral defence cooperation and expects the Government of Japan to pursue and more actively promote the defence equipment and technology aspect of the collaboration, which would open up a window for European companies to participate in the international co-development programs. Furthermore, the new policy implemented by the European Union to favour industrial cooperation in defense between Member States and open to third parties such as Japan under specific conditions, should be explored by Japanese Government as a new promising perspective.
READ MORE
Key issues and recommendations
Chairman
Mr. Nikolaus Boltze
Country Representative
thyssenkrupp Representative Office
2-3-1, Minatomirai
Nishi-ku, Yokohama 220-6011
Tel: +81-45-211-4653
Fax: +81-45-211-4609
Upcoming committee meeting schedule
Please contact the EBC ([email protected]) to confirm the meeting location prior to attending
2022
| DATE | TIME | LOCATION |
| --- | --- | --- |
| TBC | 09:00~ | EBC and Web |